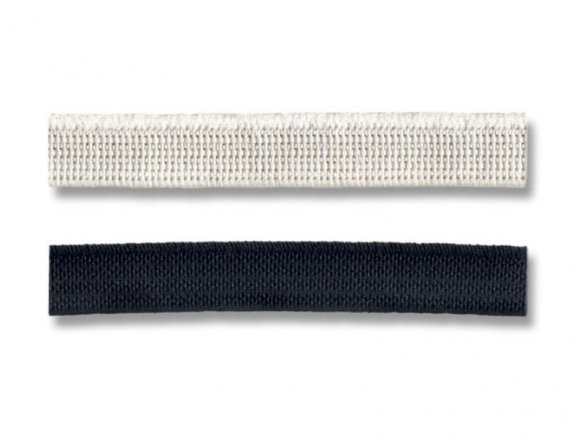 61% polyester , 39% synthetic elastomer (rubber), elongation to 110%, weight: app. 2.4 kg/1000 m in w = 6 mm, woven border, finished with the customary glaze
This simply woven elastic band is produced in Europe and used for elastic bands in the clothing industry. Its very weak elasticity makes it particularly suitable for use on cuffs that should not press too disagreeably against the skin. We have it in our product line because it is also a great material to use in the realm of bookbinding as a fastener for folders or books. In addition, such an elastic band can be well used when working with textiles of all kinds.
The specific expandability of this material is the result of the use of a combination of elastic threads in the warp and inelastic polyester yarn in the weft. When you pull on the band, the elastic threads expand up to the point where the polyester weft threads start to express their resistance. When the band is subsequently released, the elastic threads constrict whereby the polyester threads return to their original gathered condition. In order to avoid the eventuality that the elastic warp threads do not rub against the polyester weft threads and thereby affect expandability, they are wrapped in polyester yarn before the weave is made.
Elastic band, woven, soft
4 Variants
Note
In rare occasions it can be that tapes in lengths starting at 50 m (as a result of production processes) will have two interface points. Please consult one of our staff if you require a uniformly continuous tape.