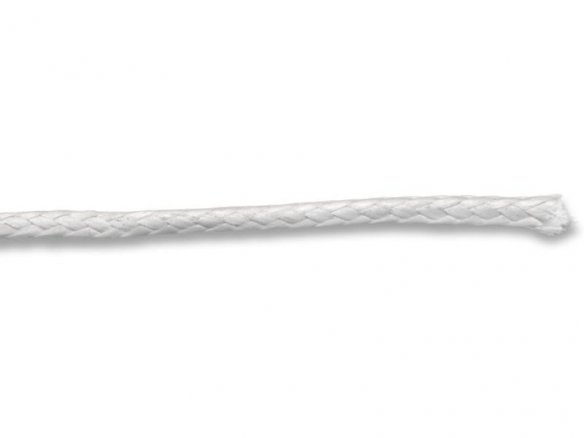 12-plait braided HMPE (high-performance (modulus) polyethylene) sheath, PU coated, no core, breaking strength is 980 daN
One of our employees is a percussionist – better known as a drummer - and he spends some of his free time building his own drums, including covering them with the skin. For this work he needs a cord that is as stiff (non-stretching) as possible, one that, after tightening it around the skin, will not expand and allow the skin to become loose. For this purpose he can use a pre-stretched cord – a braided cord with a fibre core whereby the fibres have been liberally stretched beforehand so that when exposed to further strain they will only stretch a little OR he can turn to this Novoleen braided rope, a modern synthetic fibre that has even lower elongation than ARAMID BRAIDED ROPE, which makes it ideal for all types of stretching and spanning work. Novoleen, a high-density polyethylene (HDPE) with silky lustrous fibres, has just about the same tensile strength as a WIRE ROPE but is many times lighter in weight and buoyant to boot. In the nautical sector, for example, it is often used as a winch rope.
Its strengths are obvious when it is put under load, its weakness consists of a certain amount of rigidity. If this braid is not put under load but instead used in such a way that it will run over itself (on a winch, etc.), it will lose its texture and begin to pull apart, which will also make the fibres especially prone to kinking.
Dyneema braided rope, low elongation, ø 4.0 mm, grey
Note
Please note that no exchange is possible in the case of products cut from rolls. The minimum order for products sold from rolls: 0.5 running metre.