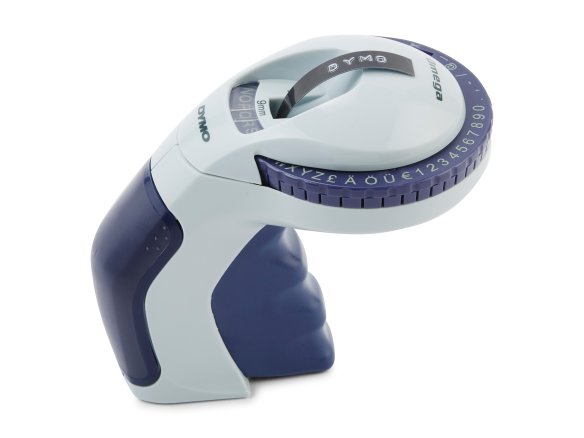 embossing label-maker for home use
ergonomic Soft Touch handle
suitable for 9mm embossing tape
imprints sharp, white characters, 3.7mm tall
includes 49 characters, including "@" and "€" symbols
tape cutter for easy removal of label from paper backing
The Dymo Omega embossing label maker is solidly made and can be used on a daily basis for any number of useful purposes related to labelling. The tapes stick in place reliably and stay there; i.e. they do not fall off by themselves like a lot of other cheaper versions. The embossed characters are clearly recognizable and those results do not diminish even after much use.
Please note: The way the embossing of the characters into the self-adhesive tape works in the device is that there is a positive stamp on the underside of the tape and a negative stamp on the upperside. These different stamps are arranged on two wheel discs that are turned by hand when you are making your selection of one of the characters. If it should happen that the two wheel discs do not move in sync during this process, the device will no longer emboss correctly because the negative and positive stamps no longer belong to the same character but instead are displaced in relation to one another. The two wheels, however, can indeed be brought back into sync quite easily by hand without damaging your device. The lower disc has different lay-outs for the numbers and letters that are all equidistant from each other. Only one of these many fields is somewhat wider, the one that belongs to the symbol "scissors" which is the cutting-off function. At that position it is easy to see if the two wheel discs are indeed in sync.
Dymo Omega embossing label maker, 49 characters, for 9 mm embossing tape, incl. 1 ta
Accessories and Related Products