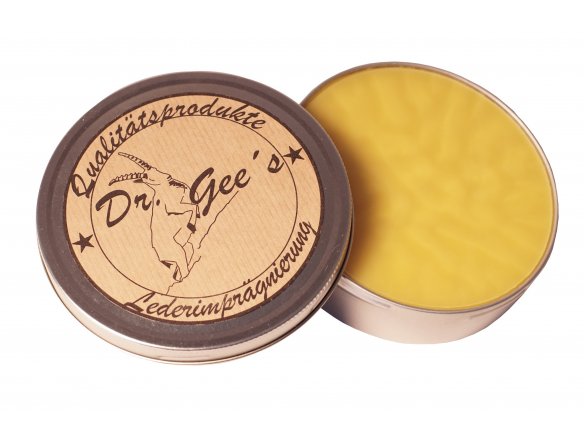 100% natural ingredients
For shoes, bags, riding equipment
Gives extremely water-repellent properties
Nourishes, nourishes and keeps it supple
Rust protection for metal
Made in Germany
Ingredients

Beeswax, balsam oil, linseed oil

Suitable for

Smooth leather, textiles, metal

Packaging

Resealable tin can

Note

Without the addition of fluorocarbons (impregnating agents in functional clothing), colorants and preservatives or other questionable ingredients
Made from beeswax, balsam oil and linseed oil according to a traditional recipe: Dr. Gee's leather impregnation gives your leather items extremely water-repellent properties, nourishes and nourishes the leather and maintains its breathability. In addition, the wax smells of softwood thanks to the tree resin balsam oil.
With the impregnation wax, you can effectively protect your hiking shoes, bags and jackets made of smooth leather, and also your riding equipment, from moisture and dirt and thus extend their lifespan. Apply the wax evenly with a soft cloth and rub it in until it is completely absorbed. The combination of wax and oil penetrates Dr. Gee's impregnation deep into the leather. Attention, the surface darkens during treatment and shines more, so always test it first.
You can use Dr. Gee's impregnating wax not only for leather care, but also as rust protection for metal tools, for weapon care and for impregnating cotton textiles. For the latter, however, due to its soap-like shape, Dr. Gee's impregnating wax block is better.
Good to know: Dr. Gee's produces impregnation and care products on a 100% natural basis in Bonn in a resource-saving and environmentally friendly manner. This means: without colorants and preservatives and without the addition of fluorocarbons and perfluorocarbons - chemicals that are difficult to degrade and used as impregnating agents e.g. be used in functional clothing.
Dr.Gee's waterproofing wax for smooth leather, beeswax, balsamic oil, linseed oil, 200 g