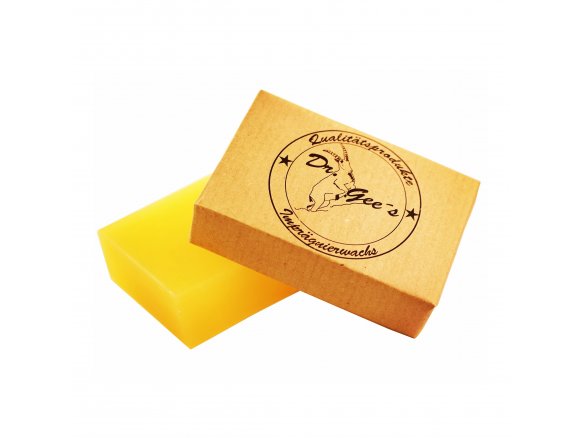 Based on beeswax._x000D_
Environmentally friendly impregnation_x000D_
Rain protection and care_x000D_
Handmade in Germany
Ingredients

Pure beeswax, paraffin

Suitable for

Cotton and blended fabrics with at least 25-30 % cotton content

Note

Without the addition of fluorocarbons (impregnating agents in functional clothing), dyes and preservatives, PFC's or other ingredients of concern, food safe.
With Dr. Gee's protective wax you can easily treat cotton fabrics to make them water repellent. And it's environmentally friendly, because the protective wax contains only beeswax and paraffin. Not only jackets, oilskin coats, outdoor clothing, and children's trousers get a solid rain protection and a more durable surface by impregnation - but also cotton and blended fabrics, from which you can sew bags, hats or tablecloths, and converted into a waxed cotton fabric.
That's it: Rub the wax into the fabric until you have applied a thin and even layer. Then use an iron or hair dryer to melt the wax into the fabric. The more often you repeat this process, the more water repellent the wax will be. Especially if you wash impregnated textiles, you should renew the wax layer from time to time.
Dr.Gee's waterproofing wax bar for cotton, beeswax, paraffin, food safe 100 g