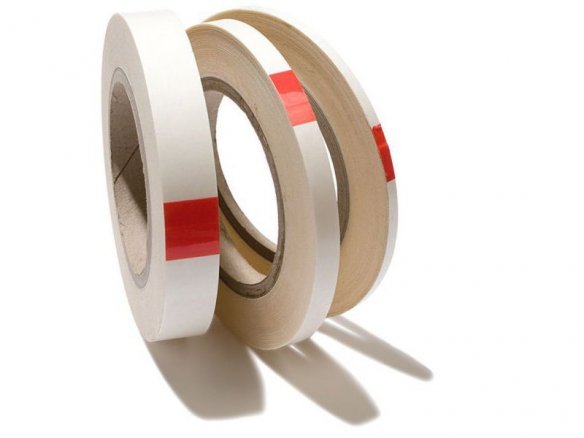 adhesive on both sides, translucent, white, carrier material is paper, temperature resistant (short term up to 80 °C), solvent-free acrylate adhesive (adhesive strength is 19 N/25 mm), one side with 105 g/m² release paper, th = 0.01 mm
This translucent double-sided adhesive tape has a wafer-thin (fleece) paper carrier and is available in widths starting at 6 millimetres – and at a very reasonable price as well! Its extreme thinness means that it hardly bulges or sticks out at all, making it perfect for affixing very fine, thin materials like, for example, transparent or glassine paper. The version with the smallest width of 6 millimetres is highly suitable for affixing narrow borders when SCRAPBOOKING or for doing intricate mounting jobs.
This adhesive tape is used quite often by craftsmen as a means for making foamed materials self-adhesive (foam rubber and PU soft foam) so they can be employed with a minimum of effort. In addition, this tape is also the preferred choice for affixing plastics like PE and PP that invariably lack good adhesiveness.
This adhesive tape has great holding power when first applied and can, of course, only really exhibit its full adhesive strength when applied to very smooth surfaces. When applied to low surface energy surfaces like POLYPROPYLENE or POLYETHYLENE, the tapes adhesive strength is diminished but is still strong enough for normal requirements.
Double-sided non-woven adhesive tape D80
3 Variants