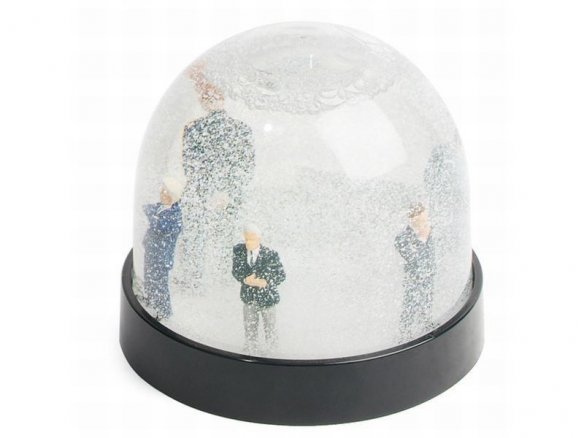 clear plastic dome with black base and stopper, comes without snow flakes and water preservative
Fans of snowglobes can now design their very own. Whether you work your Fimo clay into the form of your favourite entertainment star and set it under the dome or want to display your smurf collection in the middle of a snow drift – there is no limit to what you can do provided, of course, that it is waterproof.
First, the object you have chosen to display in the snowglobe must be glued to the bottom piece. For this work, Pattex Repair Extreme Gel will work very well (pay attention to the directions concerning materials and handling). If the object has a base plate which is big enough to cover the filling hole you will have to make a corresponding hole in it before the gluing. To glue the dome in place, the groove around the base piece should be filled with waterproof glue. In doing this step you should be sure not to use too much glue but also not too little – the best method is to apply the glue with a toothpick in order to assure a complete seal all the way around. After placing the dome in its groove you must wait at least 3 hours for it to dry completely.
Before adding the water, a teaspoon full of the snow flakes must be poured into the fill hole and the globe placed upside-down in a holder that will not allow it to fall over. Then, 160 ml of distilled water must be mixed with the entire contents of the small bottle of water preservative (which prevents the water from becoming cloudy) and poured up to the upper level of the globe's fill hole so as to assure that the inevitable air bubble will not be too large. The filling is best done with a syringe or a funnel because the opening is very small. Before finally closing it up, please add a tiny drop of detergent to the water.
Do-it-yourself snowglobes
2 Variants