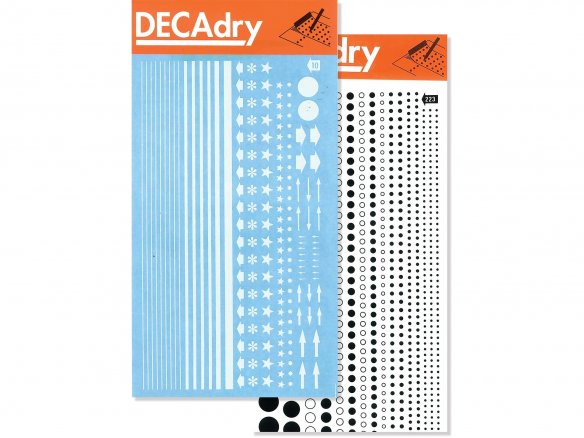 Rub-on symbols on transfer film, with guide lines
We have added this product, which in the meantime has become somewhat rare, to our assortment because demand for it seemed to be coming from everywhere. What makes these rub-on symbols special is how easy they are to work with and how great the subsequent results are – with just a little practice you will be able to produce inscriptions that are close to professional standards. In addition, the fact that the symbols must be placed and spaced by hand almost forces one to be creative when using them.
Originally these rub-on symbols were mainly used by architects, designers, model makers and artists for labeling details – on drawings, plans, prototypes and artistic works. Nowadays this kind of task is being done with cutter-plotters but the charm of the spontaneous-looking handiwork produced with rub-on symbols cannot be approached by such modern methods.
These symbols will stick to almost any smooth surface, including paper and cardboard, wood, plastic, metal and glass. They can be easily removed with an eraser or by employing a piece of adhesive tape.
Before getting started on a project you should be certain that your surface is free of dust and grease. To apply the symbols, the film should be placed over your substrate and each individual symbol rubbed with a pencil or pen.
The packaging for the Decadry Transfer rub-on symbols includes a transparent sheet with the lettering and a silicone coated release liner.
Decadry Transfer rub-on symbols
2 Variants