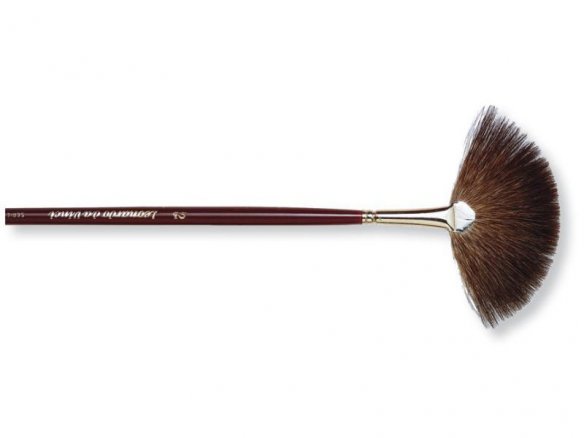 blue squirrel hair, seamless silver ferrule (= drawn brass tube, nickel-plated); long maroon hexagon wooden handle, exposed hair length 31 mm, total length 330 mm, w = width of fan
A fan blender paintbrush allows you to portray a multiplicity of textures such as, for example, woven fabrics, webbing, foliage, leafwork, fur or clouds. The fine squirrel hair is able to take up a particularly large amount of liquid and to slowly release it onto your substrate. In addition, this brush can be used for taking up gold leaf when working with that medium and is especially useful for applying the gold leaf to inside edges (fillets) in, for example, baroque frames.
Squirrel hairs come from the tails of Canadian and Russian (Siberian) squirrels - they are not as elastic and durable as the Kolinsky red sable hairs but do have the ability to take up and store large amounts of liquid: for this reason they are often found in so-called "mops" brushes (washing) whereby this feature is put to its best use. The highest quality squirrel hairs are the blue and Kazan versions.
Da Vinci squirrel hair fan blender, series 407, size 3, w = app. 75.0 mm