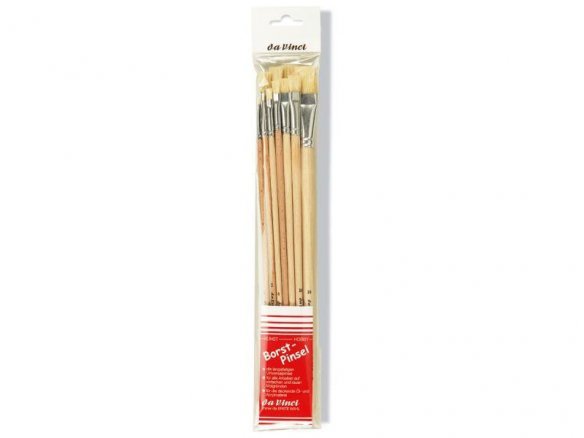 white China bristles, seamless aluminium ferrule (drawn aluminium tube), long, natural wood handle, sizes 1 to 24, exposed bristle length is 6 to 30 mm, total length is 280 to 330 mm w = width of ferrule
This universal paintbrush made with Chinese hog bristles can be used for all types of painting work on basic and coarse substrates but is especially great for large area coverage in oils and acrylics as well as lacquers, varnishes, wood imitation agents (veining), glazes and primers.
The best and most well-known hog bristles come from China and Russia. They are distinguished by their robust structure, excellent elasticity and high degree of resilience. Bristles have a rougher texture than natural hair and the tips of the individual strands end in a so-called "flag", which it divides there into many thin ends. This "flag" contributes significantly to the ability of a brush to yield a more even application without leaving grooves.
Da Vinci bristle brush, long handle, flat, set 5293, series 23: size 1,2,4,6,8,10,12,14,16+18
Handicrafts & DIY
Painting & Color design