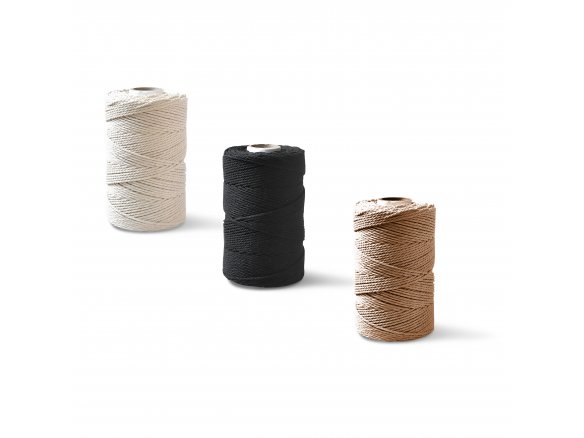 For macrame, etc.
Very handy and supple
Eight beautiful colors
High quality
Material

100% recycled cotton

Processing

twisted

Thickness

approx. 2.5 mm

Length

approx. 130 m

Weight

approx. 500 g

Application

macrame, weaving, crafts, decorating
Use it for knotting, weaving, crocheting or decorating: Especially in macrame, the high-quality and supple rope made of recycled cotton remains friendly to your skin even when tying knots.
Since the old oriental knot art with the boho flair has experienced a do-it-yourself revival, you can get a lot of suggestions for home-made fashion and home accessories: wall decor, hanging baskets, statement necklaces, bracelets, or airy bags. You'll find the necessary accessories under wooden beads, wooden rings and poster pegs.
Depending on the batch, small colour changes may occur during production.
Cotton cord twisted, recycled, th = 2,5 mm, l = 130 m, aqua
5 Variants
Accessories and Related Products