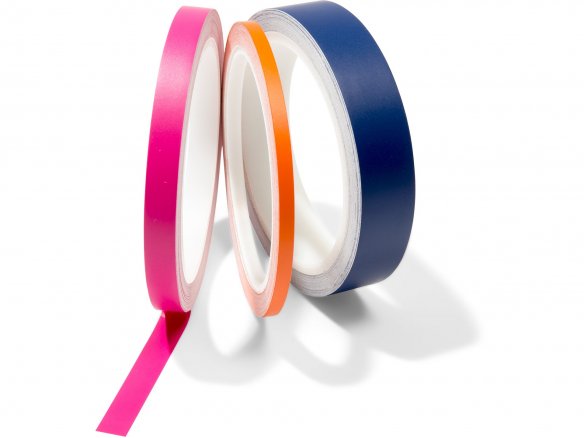 material

made with Orafol coloured adhesive film, PVC

Strength

0.07 mm

Dimensions

inner diameter of tube 76 mm, plastic core inner diameter 76 mm
We have this coloured adhesive tape fabricated for us out of Orafol adhesive film, which means all the attributes of the tape and its adhesive coating are identical to that product. In addition, if a tape has the same colour identification number as the film it will be exactly the same colour and can therefore be used in combination with it without any variance.
The narrow tapes (see also; other types of ADHESIVE TAPE) can be well used for decorative purposes in stores and on trade show constructions, for handicrafts, for decorating automobiles and much more. What makes these tapes special is that because of their elasticity they can be used to make crease-free curves – even tight ones (whereby the potential radii depend on the width of the tape. A useful formula for this: Radius = width of tape x 10. Or, the minimum possible radius of your curve is the width of the tape given in centimeters!
Coloured adhesive tape, opaque, matte
30 Variants