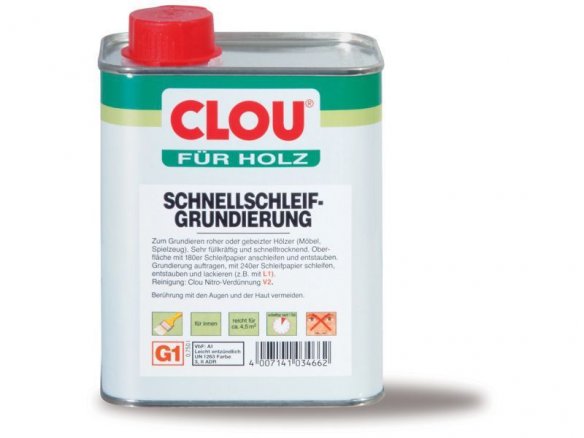 transparent colourless nitrocellulose primer for raw and stained wood, high build primer, fast-drying; coverage: 1l/8 m² per coat, hazard warning: Xi = irritant, F = highly inflammable
Rough, raw or stained wood surface areas should be primed with this Clou G1 quick dry primer before being painted with a nitro-based wood varnish like CLOU WOOD VARNISH L1. The wood piece intended for painting must be pre-sanded with 180 grit sandpaper (e.g. FINISHING PAPER, YELLOW) and all dust removed from it. Then the primer should be applied one or two times with a brush and after allowing it to dry for at least an hour the piece must once again be sanded, this time with 240 grit sandpaper and the dust again removed. The piece is now ready for painting. Please note that the Clou quick drying primer is not compatible for use with the Clou EL wood sealer.
Any tools used should be cleaned immediately with CELLULOSE THINNER.
Clou G1 quick dry primer
2 Variants