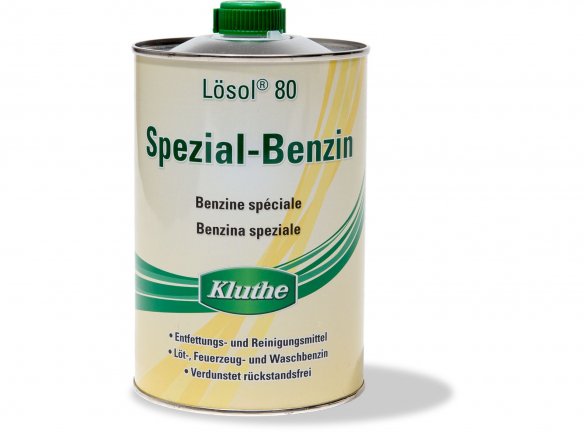 cold cleaning and grease removing agent
Description
Hazard warnings
Cleansing petrol is a cold cleaner and degreasing agent based on a solvent. It is not able to solubilize hardened paint, rubber and most plastics. It does not react with metal. It is great for cleaning brushes, cylinders, rollers and tools which have been sullied with fresh, solvent-based paints. Grease stains on textiles can be successfully removed without, as a rule, damaging the fabric and its colouring (please make a preliminary test!). In addition, it can be used as lighter fluid for the appropriate cigarette lighters.
Danger, KOHLENWASSERSTOFFE, C6-C7, N-ALKANE, ISO-ALKANE, CYCLISCHE VERBINDUNGEN, < 5% N-HEXAN = ≥ 90 - < 100 %, (VOC-Gehalt = 100,0 Gew-%), Aquatic Chronic 2 ; Gewässergefährdend : Kategorie 2, Asp. Tox. 1 ; Aspirationsgefahr : Kategorie 1, Skin Irrit. 2 ; Ätz-/Reizwirkung auf die Haut : Kategorie 2, Flam. Liq. 2 ; Entzündbare Flüssigkeiten : Kategorie 2, STOT SE 3 ; Spezifische Zielorgan-Toxizität bei einmaliger Exposition : Kategorie 3
Hazard warnings
H225: Highly flammable liquid and vapour.
H304: May be fatal if swallowed and enters airways.
H315: Causes skin irritation.
H336: May cause drowsiness or dizziness.
H411: Toxic to aquatic life with long lasting effects.
Safety instructions
P101: If medical advice is needed, have product container or label at hand.
P102: Keep out of reach of children.
P280: Wear protective gloves / protective clothing / eye protection / face protection.
P304+P340: IF INHALED: Remove person to fresh air and keep comfortable for breathing.
P405: Store locked up.
P501: Dispose of contents / container to …
Downloads
Cleansing petrol, metal can 1000 ml
Note
Cleansing petrol is harmful to your health, highly flammable and environmentally hazardous – please take note of the safety instructions and security recommendations on the package. We will be glad to send you a safety data sheet upon request.