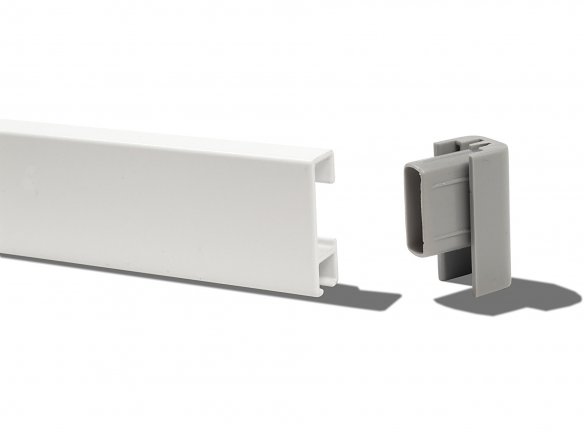 aluminium, double C profile (slot), C shaped groove with opening facing downwards, width (inner) is 6.5 mm, width of the opening is 4 mm, the dimensions given below: height x width x wall thickness (outer)
This classic picture (or gallery) hanging track is a double C profile with one opening on the side and one facing downwards. The opening on the side serves as the place to attach it to a wall, the one facing downwards is designed to accept sliding elements upon which the piece to be exhibited is to be hung.
These tracks can be easily cut with a BOW SAW; alternatively, our CUSTOM CUTTING SERVICE is ready to cut this product to any length you desire. For mounting the tracks on a wall, it will be necessary to order the MOUNTING SET as well. It contains 6 each of the following: screws (3.5 x 30), screw anchors (6 x 30), and plastic spacers that have three different possible heights by means of click-in steps. These can be used to compensate for the unevenness of a wall (see Information about Classic track picture hanging system). End caps can be attached to the profile in order to give a clean appearance when seen from the side. If you later want to insert either picture track hooks or disk sliders into the profile, it will not be necessary to remove the end caps. In order to exactly mount a series of tracks in a row it is best to make use of track connectors (these can be found in the list of products below CLASSIC PICTURE HANGING TRACKS). These plastic pieces should be either simply placed on the end of the track or screwed onto the wall whereby the ends of the tracks can be clicked onto them end-to-end.
Please note that we only offer these connectors without wall anchors or screws. The ones contained in the mounting set, however, can also be used to mount the connector pieces to a wall. The mounting set contains 6 screws (3.5 x 30), 6 wall anchors (6 x 30) and 6 clips.
Classic picture hanging tracks
6 Variants