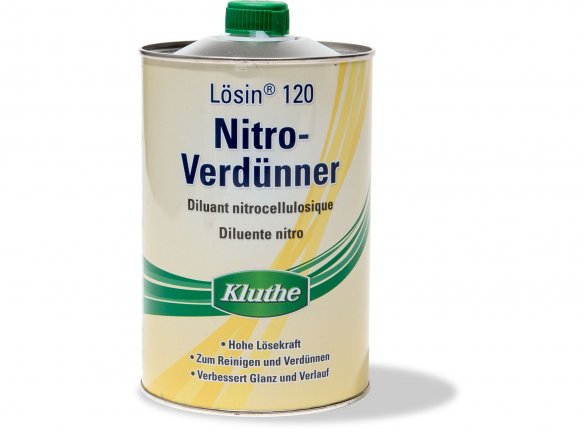 methanol-free, powerful solvent, hazard warnings: Xn harmful, F highly flammable
Cellulose thinner is a high quality, methanol-free thinner with which practically all known paints can be thinned if they are based on nitro, nitro-combination or chlorinated rubber. Air-dried and bakeable synthetic resin paints, epikote based two-component paints as well as air and oven dried zapon paints can also be thinned with cellulose thinner.
The thinner has a high degree of detaching force with the result that the paint can be made ready to use by adding only a small amount. A high degree of lamination strength with few coats of spray is a further consequence. It provides the paint with very good spreading attributes, a high gloss and contains only solvents that will dissolve without a trace. This thinner can of course be used as a cleaner and degreaser of metals or non-soluble plastics as well as for cleaning brushes, cylinders and tools and for removing glue residues.
The technique for transferring copies that uses acetone (see ACETONE) produces even better results if cellulose thinner is used; this thinner will even solubilize coloured magazine page print relatively well. Unfortunately, it does contain chemicals that are harmful to health and can therefore only be recommended in a limited way for use in such work. The minimum prerequisite for the work being done this way at all is good ventilation – even better would be a protective mask.
How you dye transparent paper or opaque paper in order to create designs and pictures as well as how you can dye cardboards, airplane plywood and even plastic films with PIGMENTS can be found described under the heading (left side of webpage) "Paints, Aids, Chemicals" where the sub-heading "Information about Paints, Aids, Chemicals" should be consulted (not yet in English).