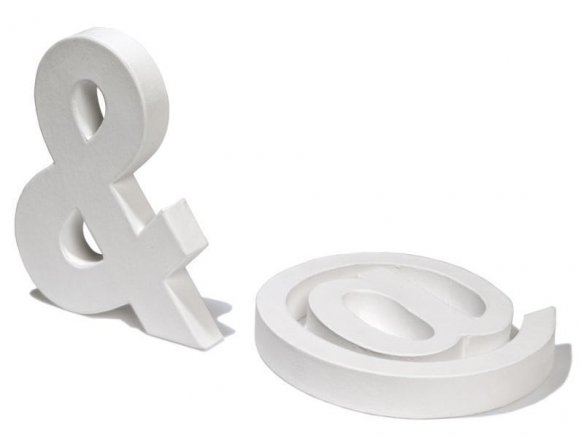 made of sturdy chipboard, all sides are covered with white paper, hollow, reinforced, self-supporting, easy to paint
A little over twenty centimetres high, white and sturdy – those are the fundamental features of these three-dimensional character sets for gluing, hanging or setting up. Three dimensional lettering and decorations can be produced with these white letters and symbols – and that, considering their size, for comparatively little money and with a considerable amount of style. Their high level of workmanship allows them to be used by more than just children or classrooms; they are more than fine for more demanding decoration and lettering work.
The body consists of sturdy chipboard; this is covered with white paper that is itself painted white with the result that the letters feel like they have been just wallpapered. A further result is that they take very well to being painted a different colour or laminated with coloured paper or even film.
Even though the chipboard letters and symbols seem to be very lightweight for their size, they are in fact very sturdy. This comes partly from the solidly joined chipboard outer walls but even more from the inner reinforcement braces which act much like those found in HONEYCOMB BOARDs. They make the letters so stable that you could potentially sit on them.
Almost all the letters and symbols are capable of standing on their own even without additional support or mounting help; the exceptions include those with a rounded underside and those with an unfavourable centre of gravity (like the "P"). When needed, you can employ different types of ADHESIVE PADS (on a wall or other vertical surface as well) for mounting purposes. Depending on the intended length of use, we recommend a tack adhesive or our double-sided adhesive dots for this job.
Cardboard logograms and symbols, white
2 Variants
Note
The thickness of the logograms and symbols ranges between a minimum or 25 and a maximum of 32 mm.