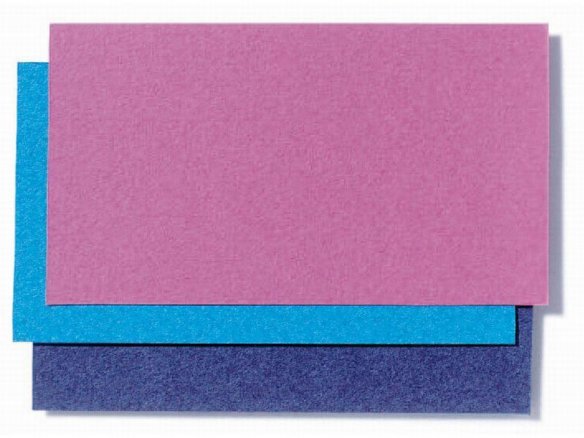 solid colour, high rag content (55%), naturally sized, coarse grained (honeycomb)/fine grained, acid-free with alkaline reserve (except black)
Mi-Teintes is a vellum drawing paper with a high rag content from the French manufacturer Canson. Its surface on one side is highly textured – what almost looks like honeycomb – while the other side has a somewhat finer texture. That the paper is referred to as "vellum" derives from its evenly textured surface. The French word "Velin" originally referred to the skin of a stillborn calf and so it is that, since the end of the 18th century, paper with a texture similar to leather has been called "Papier Velin".
It is just this very texture that makes Mi-Teintes paper so versatile because it is that which allows the paper to be both supple and dimensionally stable at the same time. It is acid-free with alkaline reserves (except black) and – because coloured in bulk at the pulp stage – has good colour stability when exposed to light (won't fade a lot). The paper is ideal for chalks, ruddle and grease based pastels as well as for graphite and coloured pencils. To those media can also be added gouache and acrylic techniques as well as printing processes. When using watercolours, only a small amount of water should be employed.
The high rag content of 55% gives the paper the highest flexibility with the result that when folded it will not break.
Canson Mi-Teintes vellum drawing paper
91 Variants
210 mm x 297 mm
297 mm x 420 mm
500 mm x 650 mm