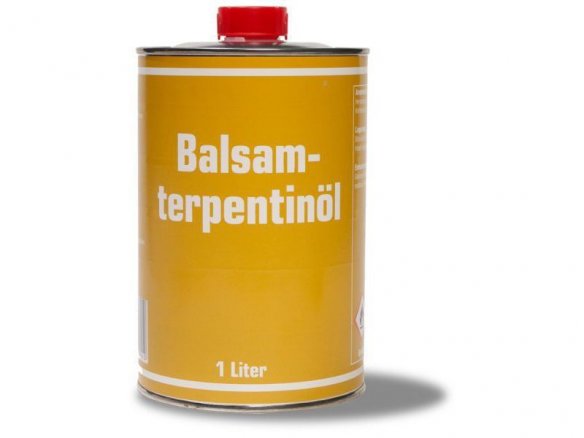 natural oil of turpentine, cleaning and thinning liquid, distilled, colourless, density: 0,86 g/cm³, boiling range: 150-180 °C, flash point +32 °C, hazard warning: Xn harmful, Xi irritant, F+ extremely flammable, N dangerous for the environment
Canada balsam, or oil of turpentine (Oleum terebinthinae) is extracted from the resin of coniferous trees (mainly pine) by means of distillation. Oil of turpentine can dissolve resin and can be mixed with oils or varnishes. Canada balsam (turpentine) can therefore be used as a thinning agent for synthetic resins, oil paints or paint solvents; when used for this purpose, it will increase their glossiness and increase their durability as well. This liquid can also be used as a cleaning agent for tools, brushes, pallets, etc. When mixed in a 1:1 ratio with linseed oil, a natural wood primer is created.
Canada balsam metal bottle, 1000 ml
Note
Canada balsam is flammable and its vapours can also cause headaches in sensitive persons. Please take note of the dangers and safety tips found on the packaging.