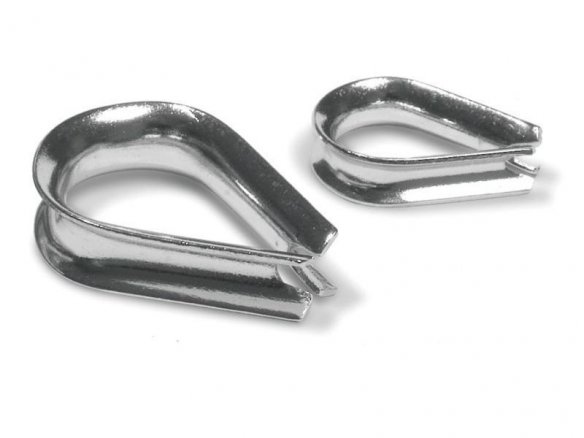 Type C, given dimensions: diameter x total length x size of opening
A cable eye stiffener is a type of oval shaped grommet that has a concave border into which you can place a cable in order to make a reinforced loop at the cable's end. The eye stiffener stabilizes the loop, distributes the weight of any hook that has been hung in it over a greater area and prevents the concentration of a load at a single point - this can damage a cable. For the purpose of closing the loop, different types of clamps are available: SIMPLEX CLAMPS or CABLE CLAMPS, to name just two. The concave border (lip) allows you to place a cable with the given diameter size (or smaller) comfortably within it. Once the loop has been made in this metal-reinforced way, you can hang SNAP HOOKS, SHACKLES or other types of connectors on it. There are three sizes of eye stiffeners and the maximum cable diameter for each is as follows:
4,0 x 24,0 x 12,0 mm - 12 mm
6,0 x 38,0 x 14,0 mm - 14 mm
When making a loop at the end of a cable, especially with one made of wire, you should keep in mind to stay within a minimum bending radius in order to avoid crimping the cable and thereby damaging it: the radius of a wire cable loop should be at least 18 times the diameter of the cable, while a fibre rope radius should be within 6 times the diameter.
Cable eye stiffener
2 Variants