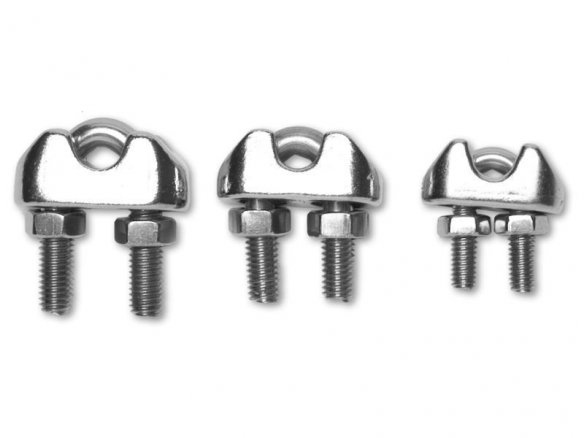 stainless steel 1.4401 (ex DIN 741) or electrogalvanized, given dimensions: maximum rope diameter x diameter of the screw x total length of the clamp
This kind of clamp is mainly used with wire cable to make loops or slings or releasable connections. In the description text above, mention is made of the "formerly valid (ex)" DIN 741. That norm dealt with the question whether these clamps are qualified for use where there is a danger to people or the possibility of damage to valuable goods: that has ceased to be the case because the technology has in the meantime progressed! They are, however, still very useful in less critical situations where they do not have to conform to any official norms and, when used properly, are very capable of doing the job. The clamps should be attached in such a way that the shackle should be on the same side as the shorter cable end, i.e. on the non-load bearing side.
When making a loop in a wire cable, the curve radius should be kept to a minimum in order to avoid crimping the rope and permanently damaging it. The radius of the loop on a wire cable should be at least 18 times its diameter. A CABLE EYE STIFFENER can also be used to stabilize such loops or slings.