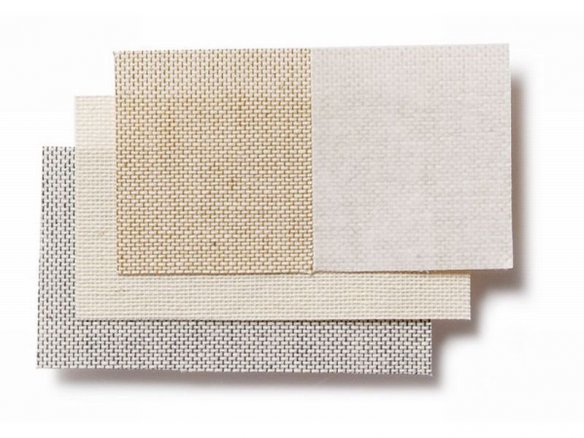 100 % cotton with coloured warp threads and white weft threads, reverse side is acid-free, white paper carrier 30 g/m², calendered, polyvinyl acetate finish, fabric configuration: warp 13.0 threads (Nm 50)/cm, weft 14.5 threads (Nm 17)/cm, usable width = 1070 mm
This relatively coarse bookbinding fabric in rustic colours is primarily used for large books like, for example, illustrated books. It can be blind tooled, hot-film stamped and screen printed. Gluing work can be done with bone glue or a synthetic glue like PLANATOL. In addition to its use in the bookbinding field, this material can also be used for other creative endeavors like, for example, stretch wall panels.
Bookbinding material, natural linen
8 Variants
330 mm x 500 mm
1100 mm x lfdm mm
Note
Please note that some colours can only be ordered as full rolls.

Furthermore, please note that no exchange is possible in the case of products cut from rolls and the minimum order for products sold from rolls is 0.5 running metre.