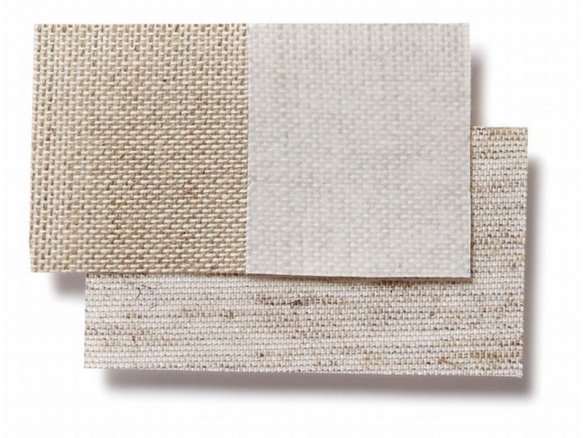 blended fabric in various beige tones (composition, see information), backing is white acid-free carrier paper 30 g/m², calendered, polyvinyl acetate finish, fabric configuration see information, usable width = 1070mm
Half-linen is a blended fabric in natural colours which is primarily used for binding larger books. Like most bookbinding material, it can be blind tooled, hot-film stamped and screen printed. Gluing work can be done with bone glue or synthetic glue (e.g. PLANATOl).
Half-linen light consists of linen and viscose fibres that are woven together with a composition of 22.0 warp threads (Nm 50)/cm and 11.5 weft threads (Nm15)/cm. The result is a relatively fine, somewhat irregular material that nonetheless has a very harmonious appearance.
For the half-linen dark a mixture of cotton, linen and viscose are woven in the following manner: warp 13.0 threads (Nm 17/cm, weft 11.0 threads (Nm 9.6)/cm.
The special aura of a bound book derives not the least from the binding material used. It is only since the 19th century that fabric was used as binding at all; before that, the binding was primarily made of leather upon which the early versions of the fabric binding were based. It is only in the 1930´s that natural, untreated cloth binding was generally accepted. At first the cloth was either linen or cotton; later, spun rayon was also used.
Bookbinding cloth is normally produced with the so-called plain weave. In this weave, the warp threads, which traverse the entire length of the material – i.e. with the grain – are woven together with the co-called weft threads that run at right angles to the warp in an over-and-under weave.
Spun rayon is well known in the production of clothing where it is also referred to as viscose. The viscose – and here the circle is complete regarding paper – is extracted from wood pulp by means of a chemical process, spun into threads, woven into a plain weave and coloured. From the resulting fabric bookbinding cloth is produced in two more steps: it is coated on the back side with a compound consisting of starch, flour and mineral additives and subsequently laminated with paper. If the "linen" (cloth) is smoothed with a calender (a machine consisting of two heated rotating cylinders) after the lamination it will take to being printed and embossed or stamped all the better.