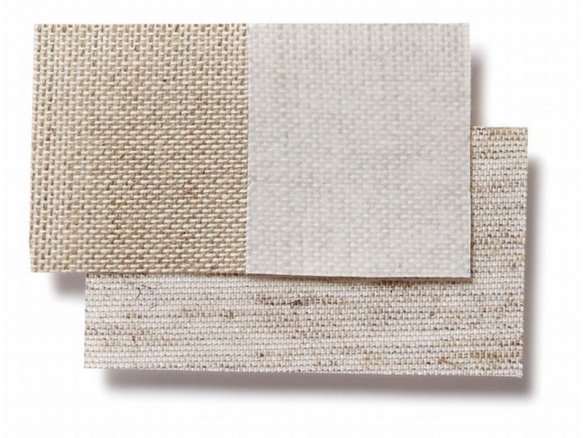 blended fabric in various beige tones (composition, see information), backing is white acid-free carrier paper 30 g/m², calendered, polyvinyl acetate finish, fabric configuration see information, usable width = 1070mm
Half-linen is a blended fabric in natural colours which is primarily used for binding larger books. Like most bookbinding material, it can be blind tooled, hot-film stamped and screen printed. Gluing work can be done with bone glue or synthetic glue (e.g. PLANATOl).
Half-linen light consists of linen and viscose fibres that are woven together with a composition of 22.0 warp threads (Nm 50)/cm and 11.5 weft threads (Nm15)/cm. The result is a relatively fine, somewhat irregular material that nonetheless has a very harmonious appearance.
For the half-linen dark a mixture of cotton, linen and viscose are woven in the following manner: warp 13.0 threads (Nm 17/cm, weft 11.0 threads (Nm 9.6)/cm.
Bookbinding material, half-linen
4 Variants
Note
Please note that no exchange is possible in the case of products cut from rolls and the minimum order for products sold from rolls is 0.5 running metre.