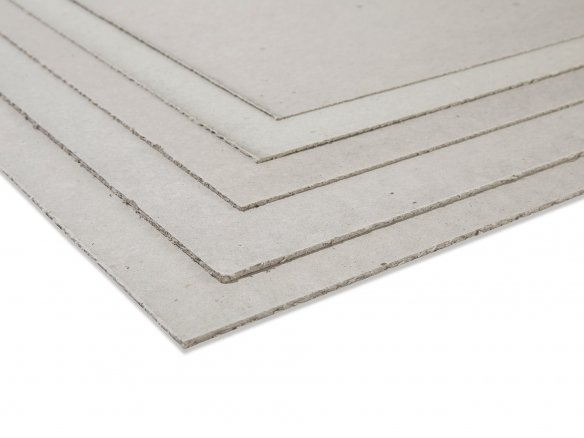 material

100% recycled paper
It would be a real shame to use his really high quality, very dense and sturdy cardboard for routine, everyday purposes. There is no comparison between the grammage of this cardboard and other "normal" cardboards - during the production process it is calendered, which means that it runs between a number of metal drums which compresses it enough to increase its density considerably. One positive side effect of this process is a high degree of smoothness on both sides of the cardboard. This also gives the cardboard a great feel in your hand; it is also unusually receptive to stamping and embossing. But it is not only great for making an impressive embossed image - it is also perfect for all kinds of bookbinding work, from book or portfolio covers to high quality folder tops. It can also be simply used as a presentation cardboard.
Their are two kinds of cardboards: hand made and machine (fourdrinier) made. In the machine version, the board layers are run through a series of drums which binds the individual paper layers by applying pressure to them (couched) and smooths the surfaces at the same time. This process is so serpentine that the maximum thickness that can be achieved is around 1.5 mm. Thicker versions can only be produced by means of bonding single layers together. Machine made cardboard has the advantage that it tends to produce a much higher degree of flatness.
Hand made cardboard (millboard) is made by continually wrapping (and compressing) a thin paper layer around a drum until the desired thickness is reached. This production process has the advantage that the resulting cardboard is to a certain extent made up of one piece of paper and not the result of many layers being glued to one another. This version tends to be sturdier and, for example, better suited for embossing and stamping work.
This machine made cardboard, however, is an exception to the rule: it is particularly dense and lends itself even better to embossing and stamping and cutting work.
The difference in the number of sheets in the various packing units is explained by the fact that all the different thicknesses are always packed in stacks that weigh 25 kilograms (less thick equals more sheets!)
Bookbinding cardboard, grey
5 Variants
1,00 mm
1,50 mm
2,00 mm
2,50 mm
3,00 mm
Note
Because this cardboard is made from waste paper and is not bleached, it can be that the grey tone of individual boards vary slightly.

Even the thicknesses among a given specification can vary as well.