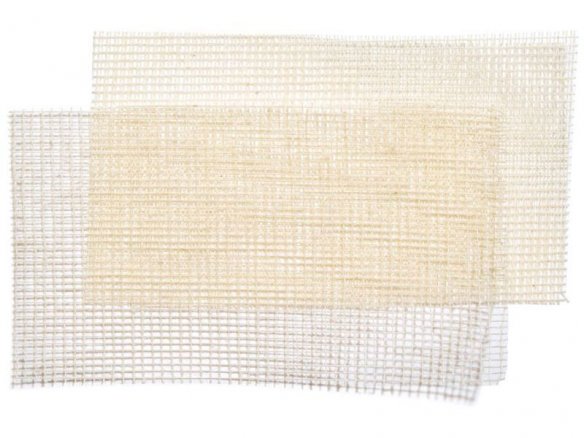 100% cotton, beige, impregnated with starch (stiffened), fabric construction of Ypsilon (single thread): warp 9.5 threads (Nm 60)/cm, weft 6.5 threads (Nm 60)/cm; fabric construction for Beta (2 threaded); warp 17.5 threads (Nm 60)/cm, weft 7.0 threads (Nm 60)/cm
Books have traditionally been made up of two separately produced elements: the book block and the book cover, both of which must essentially be solidly bound to one another. Book gauze - a wide mesh glaze reinforced cotton - serves to reinforce a book's spine, to make a bond to a book's cover, to strengthen the fold or to hold the book block firmly in place by a kind of clamping effect.
Uncoated single-thread gauze is a basic, glue permeable material that is very often used in machine-based bookbinding processes. In the case of double-threaded gauze, the weft thread always holds two warp threads together. This version is therefore less likely to tear and is more resistant to creasing – which accounts for the fact that it is rather more often found being used for stabilizing purposes on thicker books. Although it is a very plain material, it can still be used for many other creative purposes - just use your imagination!
Book gauze, uncoated
3 Variants
Note
Please note that no exchange is possible in the case of products cut from rolls.

The minimum order for products sold from rolls: 0.5 running metre