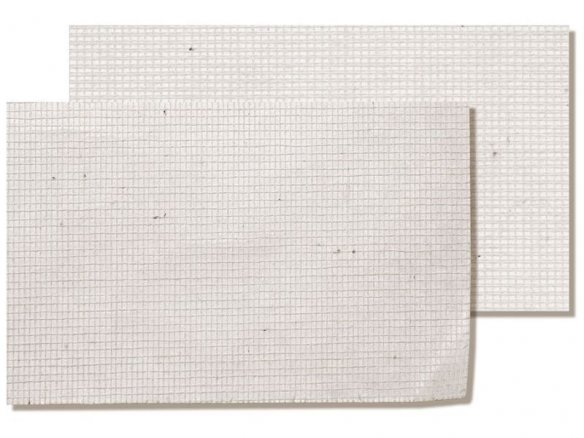 100% cotton, beige, impregnated with starch (stiffened), fabric construction of Ypsilon (single thread): warp 9.5 threads (Nm 60)/cm, weft 6.5 threads (Nm 60)/cm; fabric construction for Beta (2 threaded); warp 17.5 threads (Nm 60)/cm, weft 7.0 threads (Nm 60)/cm; coating: acid-free tissue paper ca. 30 g/m²; usable width: 980 mm (Ypsilon) and 1380 mm (Beta)
Books have traditionally been made up of two separately produced elements: the book block and the book cover, both of which must essentially be solidly bound to one another. Book gauze - a wide mesh glaze reinforced cotton - serves to reinforce a book's spine, to make a bond to a book's cover, to strengthen the fold or to hold the book block firmly in place by a kind of clamping effect.
In the case of coated book gauze, the added paper backing prevents the glue from bleeding through to the visible side. Coated gauze is markedly stiffer than the uncoated version and serves, when applied to the back, to stabilize even very thick and heavy book blocks. The specification "single-thread" or "double-thread'" refers to the number of warp threads – when 2, they will lie tightly next to one another. The more warp threads there are in a cloth, the denser and hard-wearing it will be. This naturally coloured gauze is also great for creative uses because of its interesting appearance and low price.
Book gauze, coated
3 Variants
Note
Please note that no exchange is possible in the case of products cut from rolls.

The minimum order for products sold from rolls: 0.5 running metre