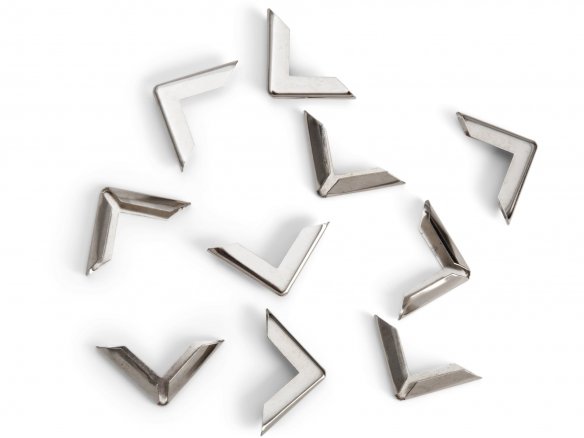 Angular shape for sharp corners
For thicker book covers
Classic silver-colored
Surface

nickel-plated, silver-colored, glossy
Slide it on, press together, and it's ready: book corner protectors not only offer stable corner reinforcement for your books, photo albums, portfolios, binders, bags, menus, or pocket calendars, they also enhance their appearance. With older books, you can elegantly conceal already damaged corners.
The angular design, along with the ability to hold covers with a thickness up to 4 mm and a definitive edge, also adds a distinguished style to the corners of thick leather or textile covers. Silver-colored metal corners match all materials and book cover colors, and they even make grey cardboard covers shine.
Application: Simply attach and carefully press together with flat pliers.
Book corner protectors, nickel-plated, angular shaped
3 Variants