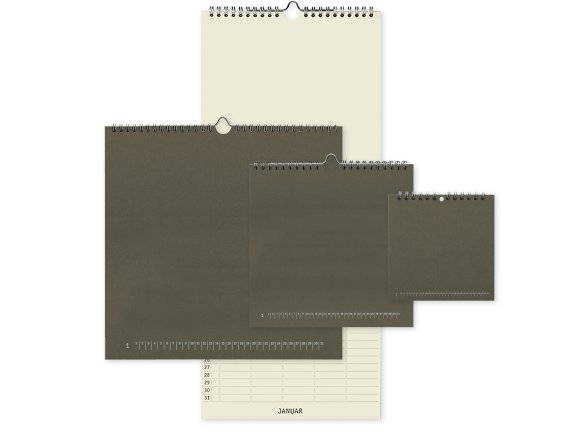 eternal calendar, coloured cardboard, matte, felt mark, approx. 250 g/m², chlorine free bleached, extremely lightfast, perpetual calendar, one month per page, silver coloured spiral binding, with hanger (only for medium size and larger), with mounting template for photographs (only for medium size and larger), maximum space available for your own creative designs: S: 130 x 100 mm, M: 200 x 160 mm, L: 290 x 250 mm (w x h)
This blank calendar provides you with the opportunity to create a very personal gift by attaching your own photos or pictures to it. The pages are made from cardboard with a matte felt surface and give to the simply designed calendar a very high quality appearance especially in comparison to other similar handicraft calendars. On the back of the printed cover there is a neutral inner cover which can be used for whatever decoration you want. As a perpetual calendar it is of course not restricted to any one year and can therefore be used over and over again. Beautiful looking texts can be achieved by using metallic pens like, for example, the PENTEL GEL ROLLERBALL in the white, silver or gold version.
A particularly practical feature is the page with the mounting template with which photographs can be lined up exactly on all the pages. You must simply cut the desired size for the photograph out of said page and lay it flush to the calendar page you want to decorate and glue the picture into the template cut-out.

Calendar sizes:
M: with mounting template for photographs sized 9 x 15 and 10 x 15 (tall and broad format)
L: with mounting template for photographs sized 13 x 18 and 18 x 24 (tall and broad format)