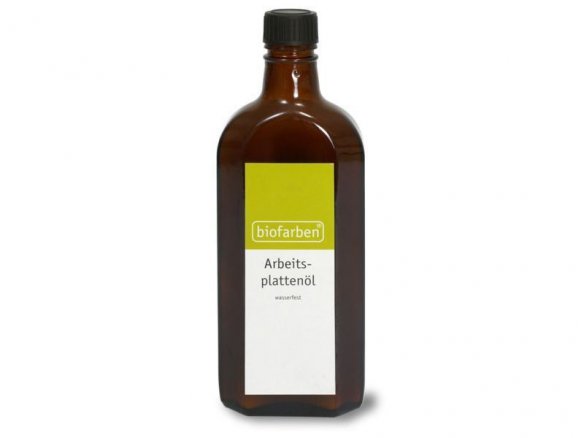 for much used indoor wood, based on natural oil and wax, transparent colourless, satin-matte, waterproof, minimal odour, anti-static; yield: 20-25 ml/m² per coat, recoatable after 12 to 24 hours, thoroughly dry after 7 to 19 days, conforms to European safety norm EN 71-3 (toy safety) and norm 68861 T1 B (chemical resistance of furniture surfaces), store in cool place, seal tightly
Biofarben Work Top Oil protects woods that are under extensive use indoors and is great for the impregnation of kitchen work tops, furniture surfaces and children´s toys. Surfaces treated with this natural oil not only take on a tactiley pleasing texture and a silky shining appearance, but also are made waterproof and stain resistant against, for example, coffee, red wine and fruit juices. Work Top Oil penetrates deeply into wood, is diffusible, anti-static, and enhances and deepens the natural texture, structure and hue of the treated wood.
Application: Preliminary tests should be made before application. A final sanded finish on the wood to be treated can be achieved with a 240 grit sandpaper (e.g. FINISHING PAPER, YELLOW). The Work Top Oil should be applied with a brush, cloth, sponge or roller in an even and thin coat. After allowing 20 to 30 minutes for penetration, the supernatant oil should be removed and the surface polished with a coarse POLISHING FLEECE FOR OILS. After 24 hours the process should be repeated. A third coat might also be required depending on the absorption capabilities of the wood. Only after the polishing step is complete can you be sure that the surface is indeed waterproof and stain resistant. Important: no layer of oil should be allowed to remain on your surface! Tools should be cleaned immediately with, for example, BIOFARBEN THINNER.
The products from the company Biofarben adhere strictly to the principles of ecology, building biology and healthy living. All the contents are clearly displayed (check out the technical data sheets) are have been tested for their effects on people and the environment - this being an invaluable asset for allergy sufferers and an important contribution to transparency for consumers. All products are worked with on a daily basis in Biofarben´s own artisanal workshop - their workability is thereby constantly being monitored.
Biofarben Work Top Oil, 250 ml
Note
Working materials like cloths, sponges, sanding dust should be stored in an airtight metal container or in water because they can spontaneously combust. The product on its own is not spontaneously inflammable.