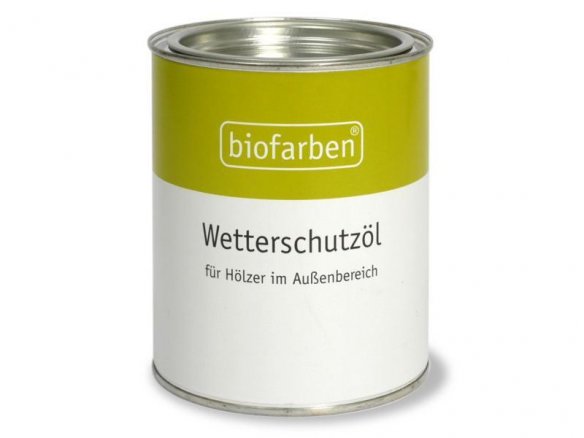 natural oil and wax based, colourless (slightly reddish on new, lightcoloured wood), water repellent, open-pored, no film build-up, refreshes colours, mineral pigments (no real pigments: no UV protection); Coverage: 40-60 ml per sq. meter per coat, drying time 3-5 hours, in the case of highly impregnated substrates 1 to 2 days, application temperature: at least +8 degrees centigrade, shelf life when unopened is at least 5 years
Biofarben weatherproofing protects exterior hard- and softwoods against the ravages of the weather. This easy-to-use oil is water repellent but still preserves the breathable (vapour permeable) characteristics of a wood´s surface. It is perfect for use on garden furniture and fences as well as wooden terraces and decks. Once the wood is treated with the weatherproofing it will require much less attention in terms of problems like spotting and the like and it will also be renewed and refreshed in the bargain! Biofarben weatherproofing also hinders the process of bleaching caused by UV rays. If you require greater UV protection, you can always add lightfast pigments to the solution in the colour of your choice and that will do the job.
Application: Before applying the Biofarben weatherproofing, all pore-closing old coatings and waxes must be removed and weathered and greyed wood sanded down. Woods that contain a great deal of resin as well as tropical woods should be rubbed and abraded with BIOFARBEN THINNER.
For a first-time application, one or two thin and even coats of oil should be applied with a brush. Between coats, any oil that has not been absorbed after 10 to 15 minutes should be rubbed away with a lint-free cloth and the wood allowed to dry. No oil should be allowed to remain on the wood´s surface. Your tools should be cleaned immediately after use - our BIOFARBEN THINNER works great for this. Depending on how long the wood is to remain outdoors and the degree of weathering, the wood should be treated again about one time every year.
The products from the company Biofarben adhere strictly to the principles of ecology, building biology and healthy living. All the contents are clearly displayed (check out the technical data sheets) are have been tested for their effects on people and the environment - this being an invaluable asset for allergy sufferers and an important contribution to transparency for consumers. All products are worked with on a daily basis in Biofarben´s own artisanal workshop - their workability is thereby constantly being monitored.  
Biofarben weatherproofing, 750 ml