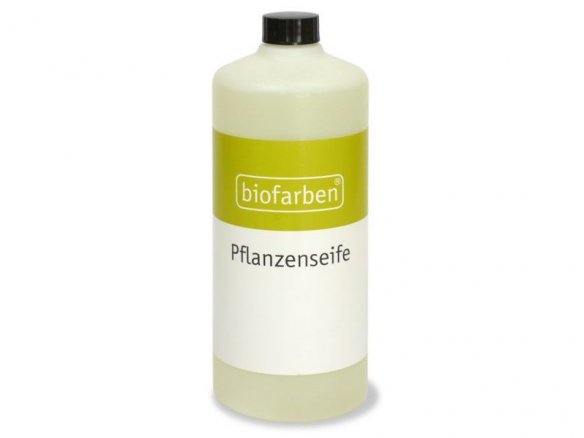 made from purely vegetable raw materials, liquid, very strong moisturizing effect; mixing ration is 30 to 50 ml for 5 litres water, shelf-life when unopened is 2 years
The Biofarben Vegetable Soap is made from purely vegetable raw materials and is great for the care and maintenance of interior oiled or waxed floors like, for example, wood, cork or linoleum as well as stone and PVC. This high yielding liquid soap is very strong while also having a moisturizing effect (re-grease effect).
Application: For regular cleaning of oiled surfaces, 40 to 50 ml of vegetable soap should be added to 5 litres water and used to wet a cloth (not, however, dripping wet!) which should then be rubbed on the area. For more intense cleaning of extremely dirty surfaces the ratio to water should be increased to 1:1. When working on woods like oak or robinia that contain tannic acid, care must be taken because discolourations can occur - we therefore recommend you make preliminary tests and adjust the mixture´s concentration accordingly.
After cleaning, the surface should be rinsed with clear water and, after drying, can be further treated with, for example, BIOFARBEN FLOOR MILK. (more info can be found at that product´s page).
The products from the company Biofarben adhere strictly to the principles of ecology, building biology and healthy living. All the contents are clearly displayed (check out the technical data sheets) are have been tested for their effects on people and the environment - this being an invaluable asset for allergy sufferers and an important contribution to transparency for consumers. All products are worked with on a daily basis in Biofarben´s own artisanal workshop - their workability is thereby constantly being monitored.
Biofarben Vegetable Soap, 1000 ml