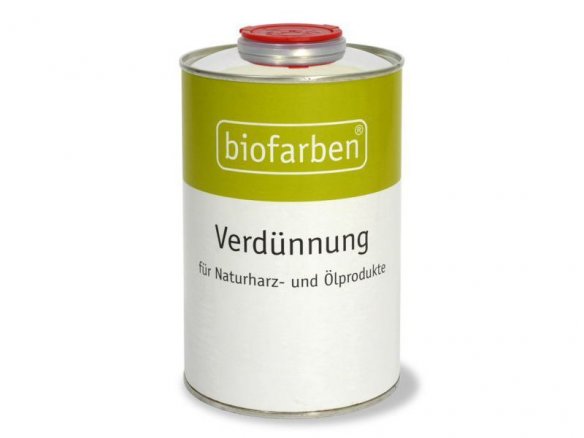 isoparafin-based, free of aromatic substances, odour-free, transparent and colourless, flammable
The Biofarben thinner is mainly designed for use as a brush cleaner and as a thinner for BIOFARBEN oils and lacquer products. It can, however, be used for thinning all oil-based products (wood stains, oils, varnishes, resin oil waterproofing, clear and top coat paints) but also for brushing out wood surfaces with a high resin content before applying a primer and for removing stains that have not yet dried on waxed or oiled surfaces.
Biofarben thinner has a low surface tension, which improves its ability to penetrate micro-capillary systems like wood, cork, etc. while also boosting the wettability of pigments. This thinner has very little odour when working with it and the resulting dried film releases almost no solvent. The light smell of essential oils, though, may last for a fairly long time.
The products from the company Biofarben adhere strictly to the principles of ecology, building biology and healthy living. All the contents are clearly displayed (check out the technical data sheets) are have been tested for their effects on people and the environment - this being an invaluable asset for allergy sufferers and an important contribution to transparency for consumers. All products are worked with on a daily basis in Biofarben´s own artisanal workshop - their workability is thereby constantly being monitored.
Biofarben thinner for natural resin and oil products, 1000 ml
Note
Please keep away from fire sources when working with this product and provide good ventilation.