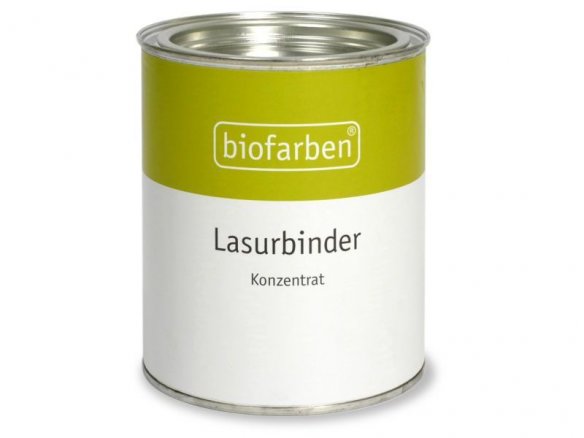 water-based binding agent concentrate, soap and wax, transparent colourless, matter finish when dry, water permeable, non-yellowing, thin with water in a ratio of 1:5-6 before use, Coverage: 750 ml CONCENTRATE for 30-40 m²; working temperature: minimum + 15 °C, dry and can be painted over after 24-hours, thoroughly dry after 24 hours, shelf-life when unopened is 1 year
Biofarben varnish/glaze binding agent is a concentrated agent made from natural raw materials that is used for making coloured, breathable dispersion wall varnishes for use on painted plaster or wallpaper. Additives like our ARTIST PIGMENTS can be used to colour this transparent, colourless binding agent.
Application: Before working with this material the concentrate must be thinned in a ratio of 1:5 or 6 by adding lukewarm water and continually stirring it in. It can then be coloured with pre-soaked pigments (24 hours), stirring them in little by little until the desired colour intensity is reached. Depending on the absorbency of the intended substrate, one litre of the stirred varnish mixture is enough for covering between 12 to 15 square metres per coat.
The varnish can be applied with a brush, sponge or cotten wrap. The work should be done quickly so that the varnish will not begin drying and forming edges. You should apply at least 2 coats but 3 is even better - a drying time of 2 to 4 hours between coats should be allowed. While working with this product it is important that the varnish mixture is constantly stirred. Your tools can subsequently be cleaned with water and BIOFARBEN VEGETABLE SOAP.
The products from the company Biofarben adhere strictly to the principles of ecology, building biology and healthy living. All the contents are clearly displayed (check out the technical data sheets) are have been tested for their effects on people and the environment - this being an invaluable asset for allergy sufferers and an important contribution to transparency for consumers. All products are worked with on a daily basis in Biofarben´s own artisanal workshop - their workability is thereby constantly being monitored.  
Biofarben Lasurbinder, 750 ml, matte