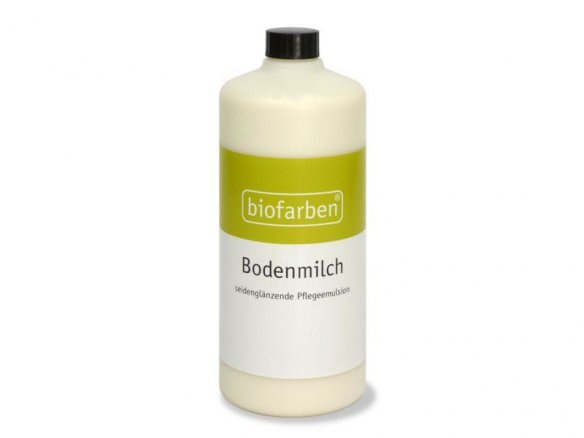 satin-glossy, antistatic, made with water and natural wax, mixture: 30 to 50 ml concentrate in 5 litres water, up to 99% biodegradable, service life of 1 year after opening
The Biofarben Floor Milk is a fragrant concentrate made from natural raw materials for the care and maintenance of interior oiled or waxed floors like, for example, wood, cork or linoleum. It creates a refined patina and protects against dirt and mechanical abrasion; the treated areas remain nonetheless permeable (open to diffusion). The Floor Milk reduces electrostatic loading of plastic based surfaces like laminate.
Care and Maintenance Usage: After cleaning your intended area with, e.g. BIOFARBEN VEGETABLE SOAP, the Floor Milk should be added to clean, lukewarm water at the ratio given above and applied with a barely damp cloth. The mixing ratio can be increased or decreased as the situation requires. Care should be taken that your surface maintains an even satin-glossy finish. Grey spots on wood mean that either the cloth was too wet and/or the mixture has too little milk. Foot tracks and dried-out areas should be treated with Biofarben Refresher.
For cork and linoleum the mixing ratio should be 1:3 (milk to water). When in doubt, a preliminary test should be made and the mixture adjusted according to the absorbance of the surface.
Biofarben Milk can also be used for care and maintenance of varnished surfaces whereby an even, satin-glossy look will be the result.
Laminated floors or ones coated with synthetic resin varnishes will cease becoming statically loaded if the Biofarben Floor Milk is regularly added to the water you use for mopping.
The products from the company Biofarben adhere strictly to the principles of ecology, building biology and healthy living. All the contents are clearly displayed (check out the technical data sheets) are have been tested for their effects on people and the environment - this being an invaluable asset for allergy sufferers and an important contribution to transparency for consumers. All products are worked with on a daily basis in Biofarben´s own artisanal workshop - their workability is thereby constantly being monitored.
Biofarben Floor Milk, 1000 ml