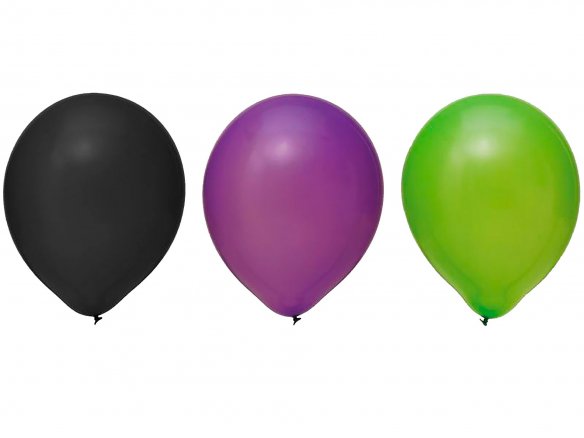 round balloon made of natural rubber, given dimensions: approx. diameter, circumference: maximum 900 mm, surface: glossy, can be filled with gas, comes in reclosable plastic bag
Store openings, street festivals or birthdays - balloons are a simple way to add colour to a room or location, make it visible from far away or just festively decorate.
Our balloons are rather more round than pear shaped. They are comparatively easy to blow up because they are made of thin latex. The surface of the balloons is glossy - in comparison to balloons from other sources, they appear almost pearlescent! The gloss, however, will fade away after about 2 to 3 days; the surface will become matte and have a sligtly powdery film. The more the balloon is blown up the more transparent it becomes, a feature that, however, varies according to colour. The black, opaque version changes its colour the most when blown up, becoming greyish and more transparent. The balloons should not be blown up any larger than the given diameter.
If the balloons are filled with helium, please do not let them rise in nature. After landing, they can be eaten by birds that die in agony.
Balloons
21 Variants
Note
Children under eight years old can suffocate on balloons that are not blown up or ones that have popped. Adult supervision is required. Keep balloons without air away from children. Popped balloons must be disposed of immediately. Use a pump for blowing them up. Made from natural rubber, which can cause allergic reactions. Please save the packaging.