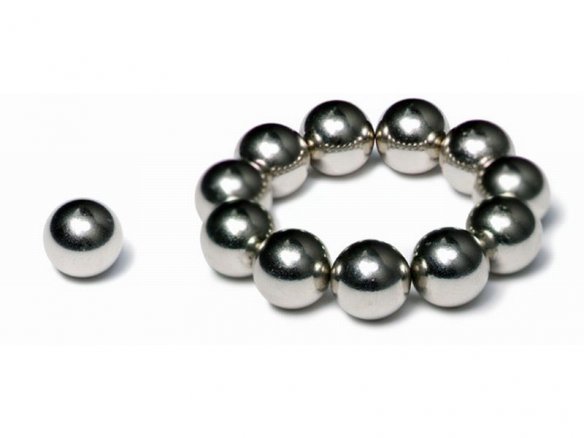 neodymium iron boron (NdFeB), nickel-plated, glossy, extreme adherence strength (10 to 15 times stronger than normal ferrite magnets of the same size), for use at a maximum temperature of 80 °C; attention: the designation "N" does not refer to adherence strength (see Information about Neodymium Magnets)!
The ball shaped neodymium magnets seem to just ask to be played with: you can hold the magnet under a table in order to roll another one over the table top as though it were being pushed along by a ghost. You can also have fun making spacial constructions with the help of, for example, 5 x 20 mm round magnets. On a more practical level, they are great as refrigerator magnets that can hold 18 sheets of A4 paper and, because of their shape, are easily moved around.
Ball magnets, neodymium, silver
2 Variants
Note
Neodymium magnets are extremely powerful. Crushing and bruising injuries can occur when handling these magnets, especially the larger ones. When two magnets collide together, small pieces can be broken off and cause injury. For these reasons the magnets should be handled carefully and they should definitely not be allowed to crash into one another from a distance. Magnets should never land in children's hands because swallowing them can lead to serious medical problems.

Particularly the larger neodymium magnets should never be stored or used near devices or objects that can be damaged by magnetism. This can include, among others, televisions and monitors, credit cards, bankcards, computers, data storage devices of all kinds, video and music cassettes, mechanical clocks and speakers. A large magnet can also disturb heart pacemakers. When in doubt you should exercise caution!