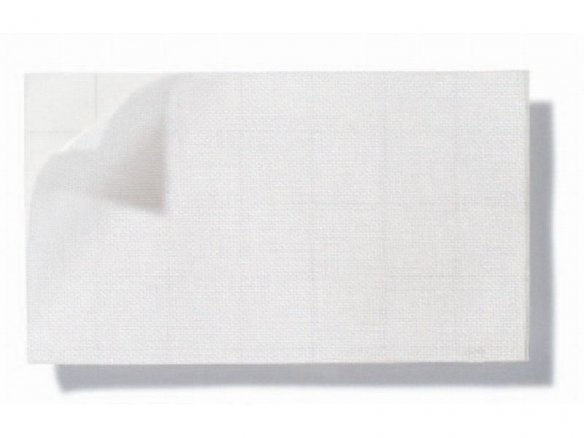 optically bright, 100% cotton, solvent and preservative free pure acrylate adhesive (adhesive strength ≥ 4N) with delayed gluing action, pH from neutral to slightly basic, PU dust-proof coat on the reverse side, siliconized paper backing with PE coating, inner tube ø 76 mm
This fabric is coated with a solvent-free high-grade acrlylate adhesive which, because of its lightly alkaline pH value of 7.5 to 8.0, has good resistance to aging. A coating of dust-proof PU on the back of this cotton fabric prevents dust and dirt from collecting on the coating of adhesive lying just below it.
Aslan SK-F is a self-adhesive cotton fabric that is used by libraries for the reparation of book spines and picture frames. Its 1 metre width also makes it suitable for use in reinforcing maps or building plans (in parts of Berlin it is mandatory) as well as many other creative uses: applying it to a plastic film (RIGID-PVC LIGHT-BOX FILM) allows you, for instance, to create a unique lampshade.
When applying the self-adhesive material, the temperature should be at least 10 °C. Once applied, the fabric is temperature-resistant from -40 °C to +50 °C.
Aslan bookbinding fabric SK-F, self-adhesive, 145 g/m², w=1000, white
Note
Please note that no exchange is possible in the case of products cut from rolls and the minimum order for products sold from rolls is 0.5 running metre.