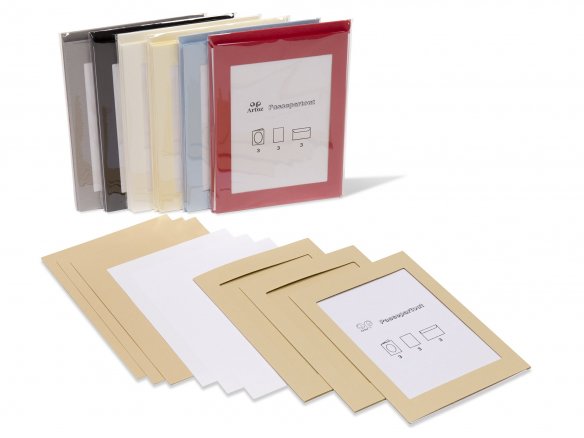 Contents of set

3 each: passepartout folding card, white background paperboard and envelopes

Dimensions

DIN B6 (size refers to the card when closed)

Material

solid colour, rag (cotton) content, woodfree, natural sizing (pH neutral resin size), ribbed, watersign (Arloz logo); can be used with laser, ink-jet and copy processors

Cards

DIN B6, paperboard, 220 g/m², folded (twice), with passepartout

Envelopes

DIN B6, Paper, 100 g/m², unlined, gummed, without window
The Artoz 1001 passepartout cards are especially well suited for easily making greeting cards that are nonetheless creative and unique. The cards consist of a paperboard that is folded in half, with the result that every passepartout window that has been punched out has what can only be called a rear panel that provides many design possibilities.
Passepartout provides a nice and easy frame for things like photographs, special papers and beautiful materials of all kinds. The bright white background paper that is included in the set can be used for making your own drawings or for other creative ideas.
The stylish envelopes complete the set!
Please Note: postage can be higher depending, of course, on the weight and format of the contents. The minimum and maximum dimensions and weights can be found under www.deutschepost.de. The official policy of the German post office is to demand higher postage for mail that cannot be machine read like dark or patterned envelopes and plastic covers. In fact, this really only applies to commercial mailings – occasional private customers are usually not charged. Stamped coloured standard envelopes in smaller quantities (up to 5) are accepted by the post office. Business customer mailings in larger quantities must be capable of being sorted in an automated system. For an easy and gratis Certification (of suitability) for your envelopes, please contact the post office!!
Artoz 1001 DIN B6 passepartout set, coloured
5 Variants