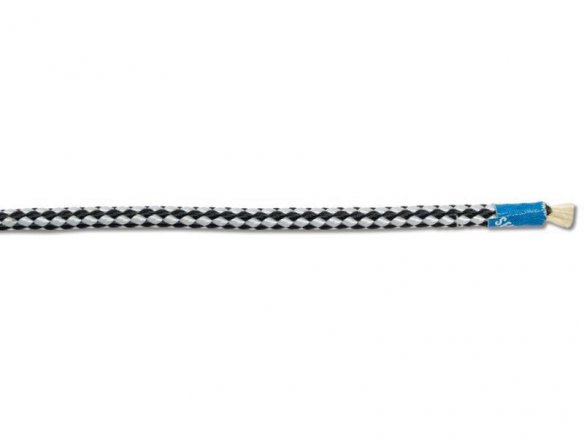 8-plaited braid, aramid multifilament yarn, resistant to breakage is 750 daN, elongation in usage area is 1.0%
Aramid is a special, almost stretch-free type of polyester that, under the brand names Kevlar and Twaron, can be found in more applications than just as a rope making material. Aramid fibres have a higher resistance to breakage and a lower amount of stretchability than steel cable, which means that even under (greater) load it will elongate comparatively less. Both of these attributes, the especially high load bearing capacity and the low elongation, increase as the diameter increases and can only be ascertained at all after a certain diameter.
We carry this rope in our assortment for other reasons too; like its pleasant feel and its good looks – it is not only stretch-resistant but it's beautiful as well, this black &white rope! Aramid will, in fact, not burn but this rope has not undergone official tests to determine its flammability. A further advantageous feature of this rope stems from the non-burning feature: the rope is more temperature resistant (long-term use temperature up to 150 °C); on the other hand, knots will tend to slip somewhat more than, for example, ones made with a polyamide or other type of polyester rope.
A rule of thumb for resistance to breakage specifications is as follows: The bearing capacity of a rope given in kilograms is determined by combining the resistance to breaking with a security factor that is either higher or lower depending on the intended use. As a rule, it lies between 5 and 10. If you calculate using a security factor of 8 the resulting bearing capacity for a rope with a resistance to breakage of 100 deka-Newton will be 12.5 kg (100 divided by 8). This only applies to a static load and of course only to a new, undamaged rope.
Aramid braided rope, stretch-resistant, ø 6.0 mm, black-white
Note
Please note that no exchange is possible in the case of products cut from rolls. The minimum order for products sold from rolls: 0.5 running metre.