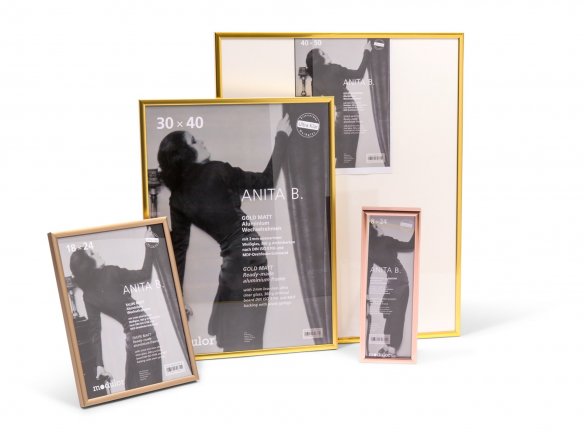 Precious metal appearance
Subtle, minimalist, contemporary
Low-iron white glass
MDF rear panel
Acid-free archival cardboard (DIN ISO 9706)
Profile width

9.6 mm (polished gold), 9 mm (bright, polished copper, matt taupe, and matt gold)

Profile height

21.5 mm (bright, polished copper), 19 mm (polished gold), 14 mm (matt taupe, and matt gold)

Glass

Ultra-clear, low-iron white glass

Rear panel

MDF

Rear panel mounting

torsion springs

Interleaf panel

Acid-free archival cardboard, according to DIN ISO 9706, 360 g

Suspension

Sawtooth hanger on rear panel
Anita Berber, who gave her name to the interchangeable frame in precious metal appearance, was a dancer in Berlin and Europe in the 1920s. The first woman in a tuxedo who played with her androgyny, had affairs with men and women, broke taboos and rules, and shamelessly and courageously caused all kinds of scandals. Perhaps you know the picture of Otto Dix, who painted the femme fatale with her copper-red hair, and whose picture even once adorned a stamp.
Unrestrained and far ahead of their time, Berber was simultaneously described by contemporaries as innocent and charming. These contrasts are also reflected in the striking, slightly opulent, yet minimized picture frame.
The "Anita B" removable aluminum frame is, in contrast to our other removable frames, more striking in its materiality and color, but more subtle and contemporary than elaborately ornamented metal or wooden strips. "Anita B" is incredibly well-suited for framing posters, posters, lettering, and, especially, photos and art. The frames, sized 8 cm x 24 cm and 12 cm x 14 cm, also beautifully holds popular instant photos.
In the colors matt gold, glossy gold, matt taupe, and bright, glossy copper, "Anita B" harmonizes perfectly with natural, warm materials and furnishing elements in wood, wool, or velvet. Its clarity is also suitable for rustic, material-oriented furniture such as solid glass, wooden, or metal tables or cabinets.
For DIN A4 or DIN A3 image formats, we recommend not framing them "against the edge." Otherwise, the frame appears too stocky and narrow. Just a few centimeters between the frame and the picture are enough to give the eye-catching strip a pleasant distance from the picture and to make the framed look more valuable and elegant overall. This is particularly easy with our ready-made passe-partout (matting) from Kurator. In addition, the 12 cm x 14 cm and 18 cm x 24 cm frames can not only be hung up but can also be placed on sideboards, side tables, etc., thanks to the stand.
We would like to thank the Museum für Kunst und Gewerbe [Museum of Art and Design] in Hamburg for the wonderful photograph of the visionary artist taken by the photographer Madame D'Ora in 1922.
Anita B interchangeable picture frame, aluminium
28 Variants
80 mm x 240 mm
120 mm x 140 mm
180 mm x 240 mm
240 mm x 300 mm
300 mm x 400 mm
400 mm x 500 mm
500 mm x 700 mm