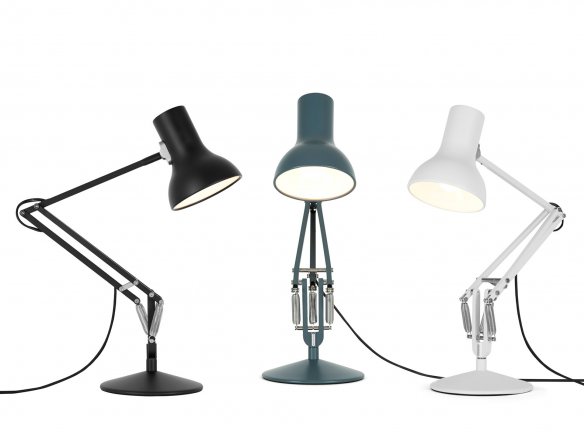 original design
very compact outer dimensions
perfect for smaller work surfaces
Lampshade

inner shade is white, made of aluminium (ø=130 mm, h = 150 mm) with symetrical light dispersion

Lamp arm

spring-balanced, aluminium, with chromed steel springs, length 500 mm

Lamp base

cast iron, ø=170 mm

Cord length

2,00 m

Lamp bulb

Light bulb included, LED, E27, 6 watt, 2700 Kelvin, 470 Lumen, CRI (Ra scale) 80, service life 15,000 hours, Energy class A++

Design

Sir Kenneth Grange
The forerunner of this workplace lamp was designed by the English automotive engineer George Cawardine around 1930 and was based on a new kind of tension spring. that had been recently developed. The resulting lamp was eventually produced in large numbers and in different variations by the firm Terry & Sons.
In 1937, the Norwegian designer Jacob Jacobsen purchased from George Carwardine and the manufacturer Terry & Sons a license agreement for the manufacture and sale of the lamp in the Scandinavian market and subsequently founded the company Luxo. He made improvements on George Carwardine´s design and created the truly classic lamp called the L1 which enjoyed sales in the millions worldwide and has continued its success till today.
The balanced positioning of the lamp arms is made possible for both lamp versions by tension springs. In the case of the Anglepoise, they are on the lower hinge joint of the lamp arm while on the Luxo L1 they are arranged on both hinge joints. The springs operate on the force and counter-force principle and are thereby able to keep the lamp arm balanced.
In 2004, the English industrial designer Kenneth Grange further developed the lamp into the Anglepoise Type 75 and the smaller Type 75 mini version - this represents the last step in the developmental life of the Anglepoise. The sturdy lampshade can be easily placed in any position you want. The sophisticated technology of the seemingly timeless and aesthetically pleasing Type 75 led to its becoming the leading professional workplace lamp in the world.
Anglepoise Type 75 mini workplace lamp
6 Variants
Accessories and Related Products