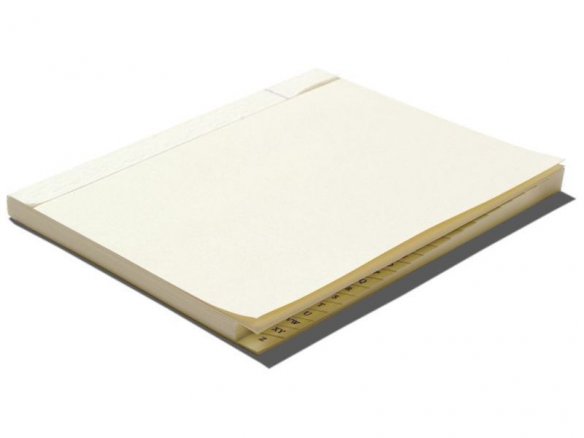 cream white paper, smooth, app. 90 g/m²; with cream white, smooth endpaper, app. 120 g/m²; bright white crepe paper spine, plastic coated index letters, thread stitch binding
This address book consists of thread-stitched and cut pages including endpaper and only lacks its own cover to be complete. A layman can easily do the cover binding because the troublesome work of binding the pages has already been done; begin directly with the design of your cover! The block of paper has a nice size which will fit into every pocket and can be completed by adding either a flexible or hard cover to it. You can also just use it without a cover – it can serve as a handy, flexible address book that you can doodle on while telephoning thereby easily beautifying it yourself.
For each letter (except in the few cases where letters are coupled) there are three pages, i.e. six sides, available for entries. Each side is divided into two vertical columns - Name and Telephone Number; the horizontal fields are each 6 mm high, more than enough space to enter the desired addresses and numbers.
Address book block, blank, 110 x 135 mm, 64 sheets/128 pages,thread-stitching