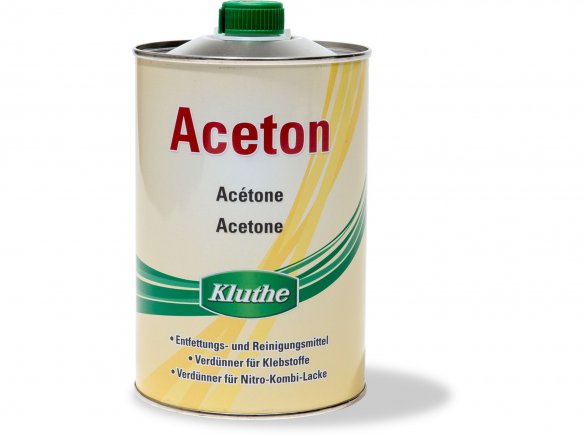 organic solvent, cleaning and transporting (e.g. acetylene) liquid, hazard warnings: Xi irritant, F highly flammable
Acetone is an organic solvent that is normally used for cleaning purposes. It is especially good for use in cleaning and degreasing metal surfaces. In addition, it solubilizes synthetic and natural resins and removes greases, oils, neoprene and all-purpose glue. Acetone is good for use as a glue for polystyrene; other plastics do not solubilize so well.
Acetone can also be used to transfer laser copies onto paper or cardboard. When using acetone in this way, the motif that is to be transferred should be laid onto paper and tamped with an acetone soaked cloth or sponge. The mirror image of the copy will thereby be transferred to the paper. This technique, which is a form of frottage, is very good for use in illustrating drawings and layouts. In this way, pictures of trees and people can be reduced or enlarged with a copier to the correct scale and subsequently transferred to the drawing or layout. Better results than those attained with acetone are possible with CELLULOSE THINNER but, because that chemical is harmful to health, that alternative is hard to recommend.
How you dye transparent paper or opaque paper in order to create designs and pictures as well as how you can dye cardboards, airplane plywood and even plastic films with PIGMENTS can be found described under the heading (left side of webpage) "Paints, Aids, Chemicals" where the sub-heading "Information about Paints, Aids, Chemicals" should be consulted (not yet in English).