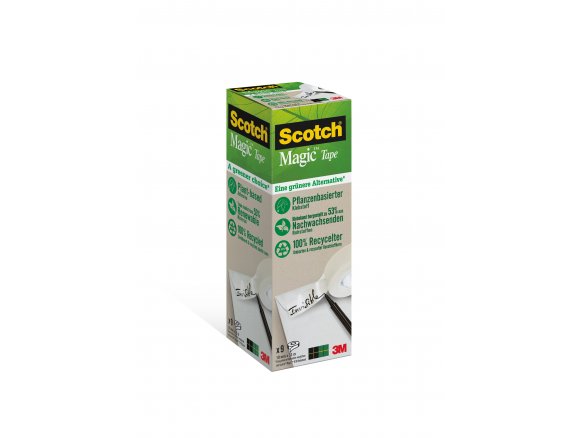 Tape made of 53% renewable materials!
Tape material

made of 53% renewable materials, roll core made of 100% recycled cardstock, plant-based adhesive, carrier film base made of natural fibers

Tape dimensions

19 mm x 33 mm

Features

translucent, strong, permanent adhesive power, "invisible" when applied, can be marked on, can be copied without shadows
This is a great product whose excellent quality makes it wonderful to work with even though it has been made with ecologically safe materials. The adhesive tape is made of 53% renewable materials, the adhesive coating itself is plant-based. Sustainability has even been taken into account in the choice of packaging materials: the roll core as well as the packaging of the product is made from 100% recycled cardboard. Even the larger packaging units (9 rolls per box instead of the usual one when buying conventional Scotch Magic Tapes) contribute to a reduction of the raw materials required: this, too, is a plus for the environment!
In addition, Scotch® Magic Tape 900 (like the SCOTCH MAGIC TAPE 810) is ideal for use in the office. It is great for repairing or joining together drawings or draft copies because, when applied, it is practically invisible while still being inscribable. Because of its heat resistance, it can withstand copiers and photo printing (blueprinting) and also does not leave any shadow when so used.
And because it is made with cellulose acetate it tears very easily, is environmentally friendly (waste paper, completely recyclable) and is nonetheless aging resistant - meaning that it does not yellow even after a long time.
3M Scotch Magic Tape 900 (grey), recycled, 19 mm x 33 m, 9 rolls