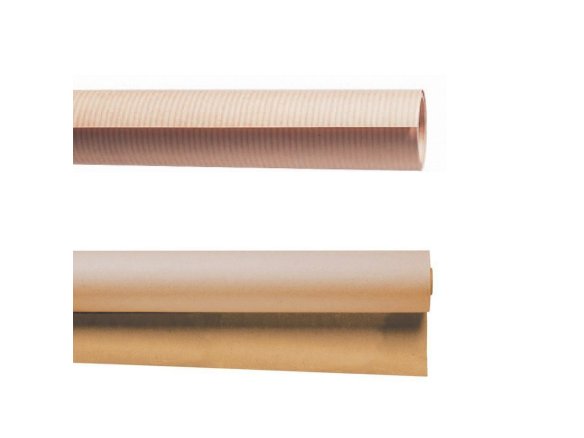 The two types of wrapping paper that come on a roll are made from different kinds of paper. The brown 85 gram paper is a natron mixed paper, i.e. it is partially produced from recovered paper and has only a medium tear resistance.
The yellowish brown, ribbed paper is, despite its low grammage, much more tear resistant. It is, namely, made from Kraft paper for the production of which only fresh fibres are used.
The brown wrapping paper is primarily used for packing and shipping purposes. It can, however, also be used for gifts much in the same way as coloured wrapping paper – coloured ribbons and bows can supply a nice contrast to the simple and basic paper´s appearance.

Wrapping paper is a stable and strong inexpensive paper that is primarily used for packaging purposes. It is made from different kinds of raw materials, among which is recovered paper as is the case with the so-called natron mixed paper. Mixed paper is paper that in partially made from recycled paper and has, as a result of the damaged fibres that come from the recovered paper, less tensile strength.
Wrapping paper with especially high tensile strength is called Kraft paper or natron paper. They are made from fresh, and usually unbleached, pulp which is the result of a sulphate process whereby wood cuttings are boiled in a caustic natron lye solution and the resulting long fibres are what are responsible for the paper's strength. For this reason these special wrapping paper types are not only use for packaging but are also used in the production of corrugated board, honeycomb board and book cover paper as well.