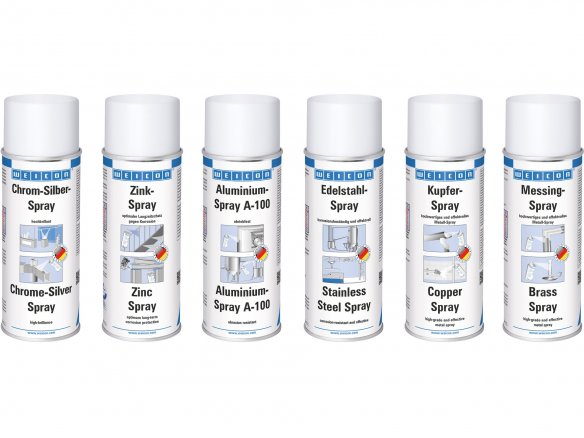 high proportion of metal pigments in the dry spray film, hazard warnings: zinc spray: F+ extremely flammable, N dangerous for the enviroment; stainless steel spray: F+ extremely flammable; aluminium/copper/brass spray: Xi irritant, F+ extremely flammable
These metal sprays not only provide protection against corrosion and damage to surfaces but can also serve to produce a natural looking finish when "metalizing" non-metallic surfaces. They adhere extremely well to metal, glass, wood, stone, cardboard as well as most plastics. They will not, however, work well on rigid foam boards.
These sprays can be used to advantage in model making or for decorative purposes when a metallic look is desired. Their metallic colours are the result of a large proportion of pure metal that has been ground to pigment size and mixed in the synthetic resin binder.
Zinc spray: long-term protection against corrosion for all metals. Minute zinc flakes form a squamous, particularly transparent film that serves as a protective barrier against extreme weather and is waterproof as well.
Aluminium spray: Corrosion protection made of 99.5% pure aluminium that is abrasion resistant, heat resistant up to 800 °C and resistant to most acids and alkaline solutions.
Chrome silver spray: ultra-brilliant surface coating that is extremely glossy because the metal pigments have a high degree of purity; heat resistant up to 400 °C.
Stainless steel spray: Corrosion protection based on rust-free steel pigments and acrylic resin, short-term resistance to heat up to 300 °C, resistant to chemicals
Copper spray: pure copper coating (no paint - only copper pigments mixed in acrylic resin carrier substance), high proportion of copper in the film when dry, abrasion resistant
Brass spray: Pure brass coating (no paint - only brass pigments mixed in acrylic resin carrier substance), high proportion of brass in the film when dry, abrasion resistant