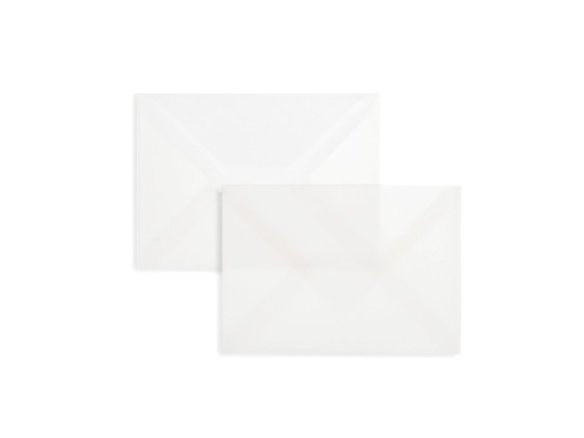 material

made from transparent paper, 100 g/m²
Just like the envelopes and mailers made from glassine paper, these transparent envelopes are especially good for use in advertising mailings whose contents should be immediately seen and recognized. Letter envelopes whose flap is on the short side are described as mailers. Both versions take particularly well to being written on with: gel rollerball, Copic Multiliner, Edding CD marker. The following pens should not be used: Staedtler Triplus Roller, Edding permanent marker.
Please note that postage can be higher depending, of course, on the weight and format of the contents. The minimum and maximum postage dimensions and weights can be found under www.deutschepost.de. The official policy of the German post office is to demand higher postage for mail that cannot be machine read like dark or patterned envelopes and plastic covers. In fact, this really only applies to commercial mailings – occasional private customers are usually not charged. Stamped coloured standard envelopes in smaller quantities (up to 5) are accepted by the post office. Business customer mailings in larger quantities must be capable of being sorted in an automated system. For an easy and gratis certification (of suitability) for your envelopes, please contact the post office.
Transparent paper envelopes
6 Variants