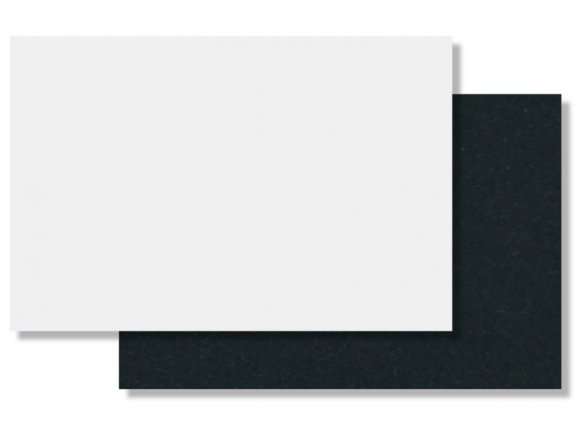 solid colour, both sides painted wth matte finish, produced with multi-layered cellulose cardboard and chemical cellulose which contains 40% recycled fibre material, FSC certified (Forest Stewardship Council)
If you want a nice little tactile experience, try handling this three hundred gram per sq. metre Touché bookbinding board. It feels like the board has been coated with a thin layer or wax. It has a matte appearance that looks very elegant; the "grippiness" makes you just itch to hold such a soft and supple thing in your hand. This attribute makes it an obvious choice for use as a cover page for brochures, solicitations, and presentations or for other documents; just as obvious would be using it to make little boxes or packaging.
It can be printed on using offset or screen-printing but not with ink-jet or laser printers. It is also suitable for engraving or for lamination or coating work (water-based and UV coating) and takes extremely well to being embossed, scored, folded and stamped. We recommend that gluing work be done with adhesive tape and adhesive films or, alternatively, the bookbinding glue AD 94/5 B from PLANATOL (in particular) or any polyurethane glue in general.
Touché bookbinding board, 300 g/m², 297 x 210 A4 (LG), black