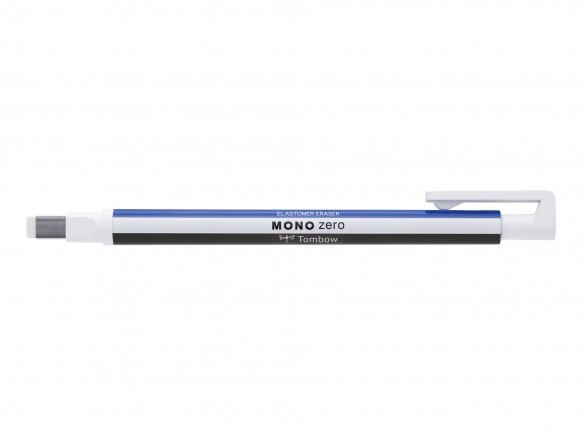 Precision eraser for professionals
Precise and clean erasing
Refillable
Reliable printing mechanism
Shaft

ABS plastic (approximately 77% recycled material), with clip

Eraser stand

Elastomer, rectangular 2.5 x 5 mm

Equipment

Pressure mechanism, metal lead guide, incl. 1 eraser string, refillable
The professional tool among eraser pencils: The slim housing of Tombow Mono Zero contains a rectangular, very flat eraser lead. This allows you to remove pencils and colored pencils precisely and without leaving any residue, and you can create exactly positioned highlights in your drawings. How far the eraser head pokes out of hte metal guide is safely in your hands with the reliable push-button feed mechanism.
A variant of the Mono Zero with a round lead can be found here: Tombow Eraser Mono Zero Black, Round ø 2,3mm.
Refills for both eraser pencils are available in packs of two at Tombow eraser Refill Mono Zero.
"
Tombow Mono Zero eraser pen, blue-white-black, flat 2,5mm/ 5mm