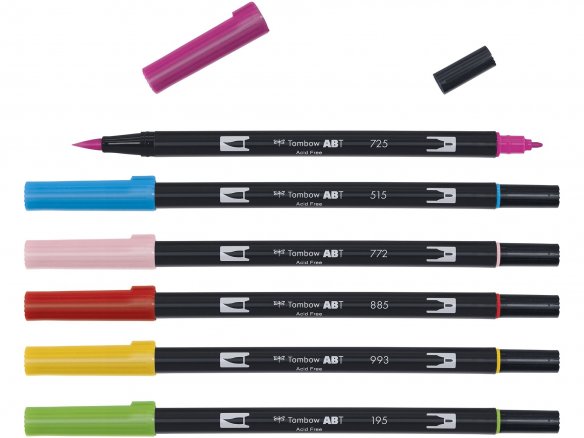 water paintable
brilliant colours
huge colour selection
flexible and robust brush tip
odourless
acid-free
Attributes

water soluble, inks can be intermixed

Ink

acid-free (not lightfast)

Line width

fine tip: 0.8 mm; brush tip: 0,8mm-3,3mm

Coverage

glazing (not opaque)

Barrel

plastic housing with end caps in color of ink
The Tombow ABT Dual Brush pens are fibre-tip artist pens that have two different tips. They come in 96 different colours as well! Because the paints are intermixable, innumerable other colours can be created once you get the hang of the mixing technique with a little practice. The paints are water-based and work just like watercolour paints, blending effortlessly - in order to be able to provide the colours with different intensities, a Tombow Dual Brush Pen blender is available. By using the blender and some water you can, for example, employ a plastic mixing palette to mix your colours in advance or diffuse or dissolve (wash or bleed) them after they have been applied. This will result in either a variety of intensities and new colours or blended colour gradients.
We recommend the wet-in-wet technique for particularly rich watercolour effects. This entails moistening the intended paper substrate before applying paint directly on it, whereby the paints will either bleed into one another or merge into one another depending on the grade and attributes of the paper.
The Brush pens are ideally suited for colourful sketches and comics. But that´s not all. Illustrating, lettering, card designing and many more activities can be performed with the Tombow pens!
Tombow Dual Brush Pen ABT, 2 tips: brush/fine
96 Variants
Accessories and Related Products